If your family is anything like my family, then they love pizza night and this Keto Pizza Casserole recipe is an awesome low-carb alternative. In this post, I share some of the benefits of making a crustless pizza and how to make this pizza casserole your own with easy variations.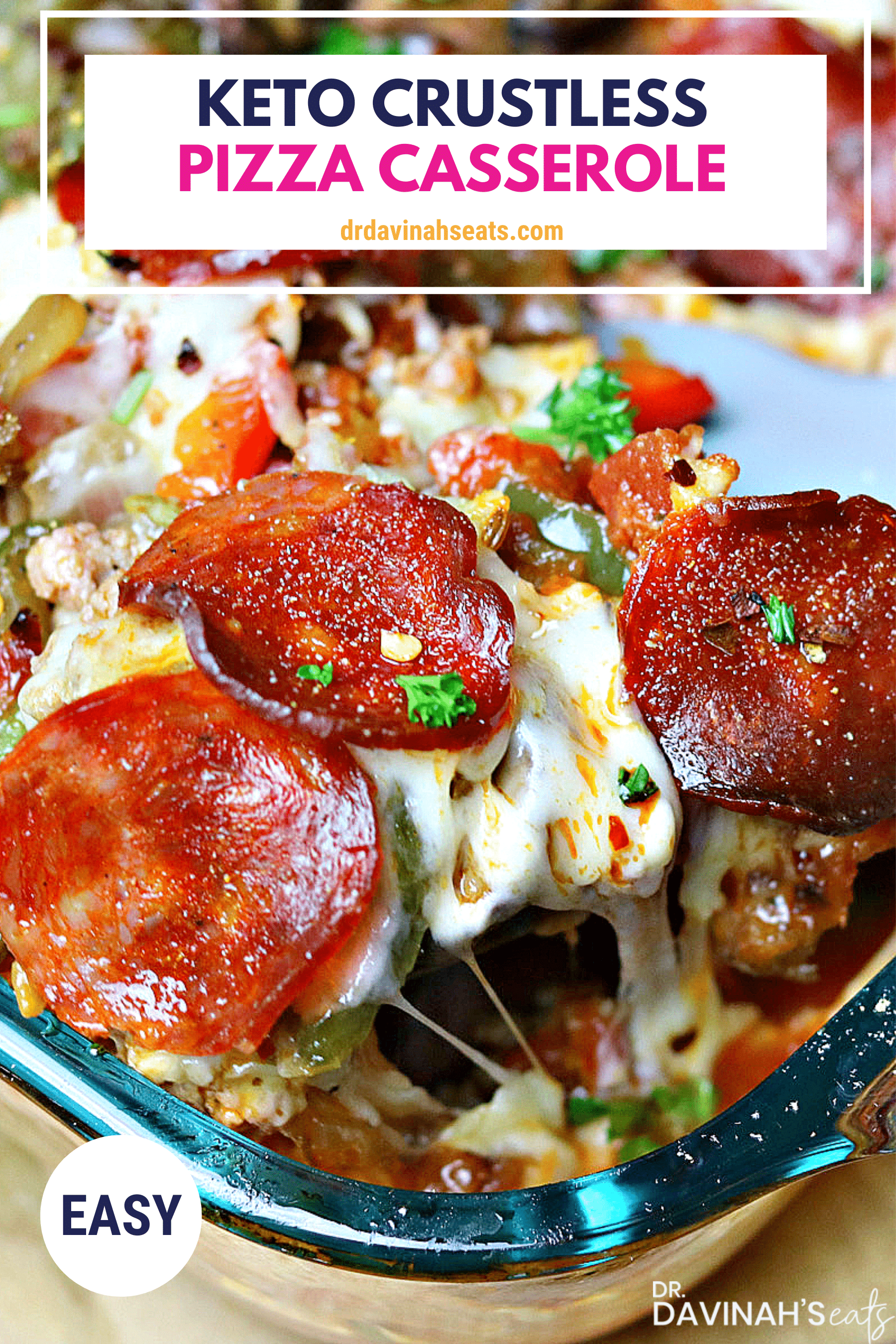 Benefits of a Low-carb Pizza Casserole
This crustless pizza casserole is packed full of ingredients that make pizza so tasty without all the carbs. And, for picky eaters, it is a great way to sneak in extra vegetables, making it very family-friendly.
Plus, it's perfect for a busy weeknight since it is easy to prepare ahead of time and reheats well. I love making this 1-2 days ahead of time and popping it in the oven when I'm ready to eat it. 
How to make a Crustless Pizza Casserole
First, preheat the oven to 425 degrees if you plan to eat the meal right away. Otherwise, if you want to store it for later, skip this step.
If you don't buy precut onions and bell peppers, slice the peppers and onion thinly. You can use whatever bell peppers or onions you have on hand. But, I prefer using red and green peppers and a yellow onion because it looks prettier!
Once the veggies are prepped, heat a pan over medium-high heat. Remove the Italian sausage from their casing and brown the sausage in the pan. Once the sausage is brown through, set it aside. 
Add the olive oil, onions, peppers, and mushrooms to the pan you used to cook the sausage. Cook the veggies until they are tender and translucent. Once cooked, give them a few minutes to cool down so they are easier to work with.
Now it's time to build the casserole. Layer a 9 X 13 baking pan with half of the sausage. Then add half of the veggies, sauce, and cheese. When you have one of each layer made, repeat layering starting with the sausage again. I always save a few of each ingredient so that the pizza casserole has some toppings.
Bake the casserole until the top is brown and the cheese is fully melted. This takes about 15 – 20 minutes.
Low-Carb Pizza Casserole Variations
Pizza is one of those meals you can let your imagination take over a bit. We love to add different vegetables to this. Other vegetables that would be fantastic in this casserole recipe would be:
Cauliflower

Zucchini

Spinach

Olives
You can also use a different variety of Italian sausage. I usually use pork, but you can also get beef, chicken, turkey, or a combination of meats.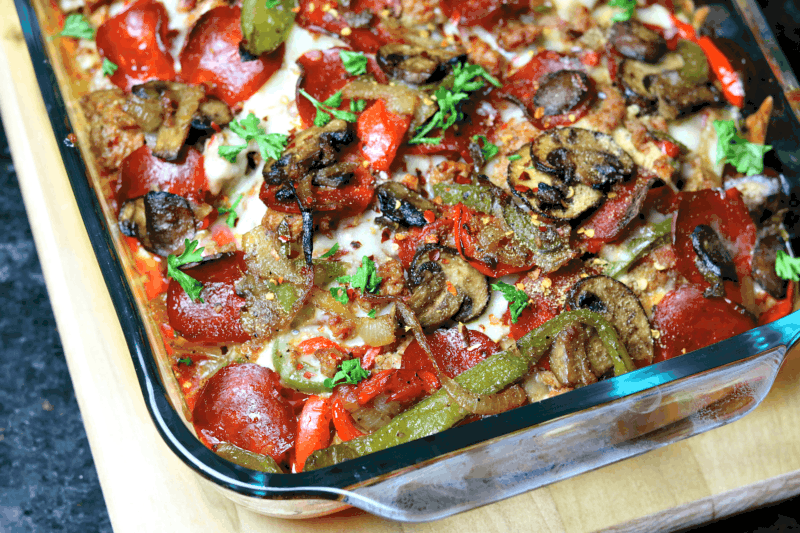 How many carbs are in a crustless pizza?
Crustless pizza has only 6 grams of net carbohydrates in a serving. And, what I love about it, is that nearly all of these carbs are from fresh vegetables! 
As a means of comparison, according to the USDA, a third of a traditional medium pizza (which is about 2 slices) is 53 grams of net carbs, most of which is from the dough.
Options to have low-carb pizza with a crust
If you really want a pizza with a crust, there are some keto-friendly options available for you to choose from. For example, you could try Fathead Dough, which offers a low carb pizza crust to make a more traditional pizza out of.
Or, if you are curious about a cauliflower crusted pizza, you could check out my Buffalo Chicken Pizza. The cauliflower pizza crust in that recipe is my absolute favorite replacement for the crust and even flat pasta. In fact, I've used it to make Keto Lasagna. 
Other Keto Italian Food Recipes
If you love Italian cooking, you should check out my round-up of Keto Italian Food. It offers a lot of different suggestions for making some of your favorite Italian foods in a keto-friendly way.
One of my favorite dishes from that collection is my Keto Meatballs. They are a delicious, low carb version of meatballs. And if you want to, you can add these to this crustless pizza casserole as another variation to the recipe.