This post may contain affiliate links to products I use and highly recommend. You can read my full disclosure here.
Click below to share this!
A recipe for sugar-free, Cola BBQ ribs that is keto-friendly and low-carb
If you've been following my page, then you know that I love BBQ! However, I've shared recipes for BBQ in the past because BBQ sauce is usually not keto-friendly and I don't have a grill. This means that I've had to make BBQ dishes like these in a slow cooker. I'm updating this recipe for Keto Slow Cooker Cola BBQ Ribs to add directions for how to make these using the 360 Cookware Slow Cooker Base (one of my new kitchen favorites) and to include a keto-friendly option for Cola (an ingredient that I love in slow-cooked ribs).
What are some keto-friendly BBQ sauce options?
Right now, there are two keto-friendly BBQ sauce options that I enjoy. The first is AlternaSweets' Sweet & Smokey BBQ sauce. The second is G. Hughes Sugar-Free Hickory. Either of these would be a good option for these Slow Cooker BBQ Ribs. The main difference between the two is how they are sweetened. AlternaSweets uses Stevia and G.Hughes uses Sucralose.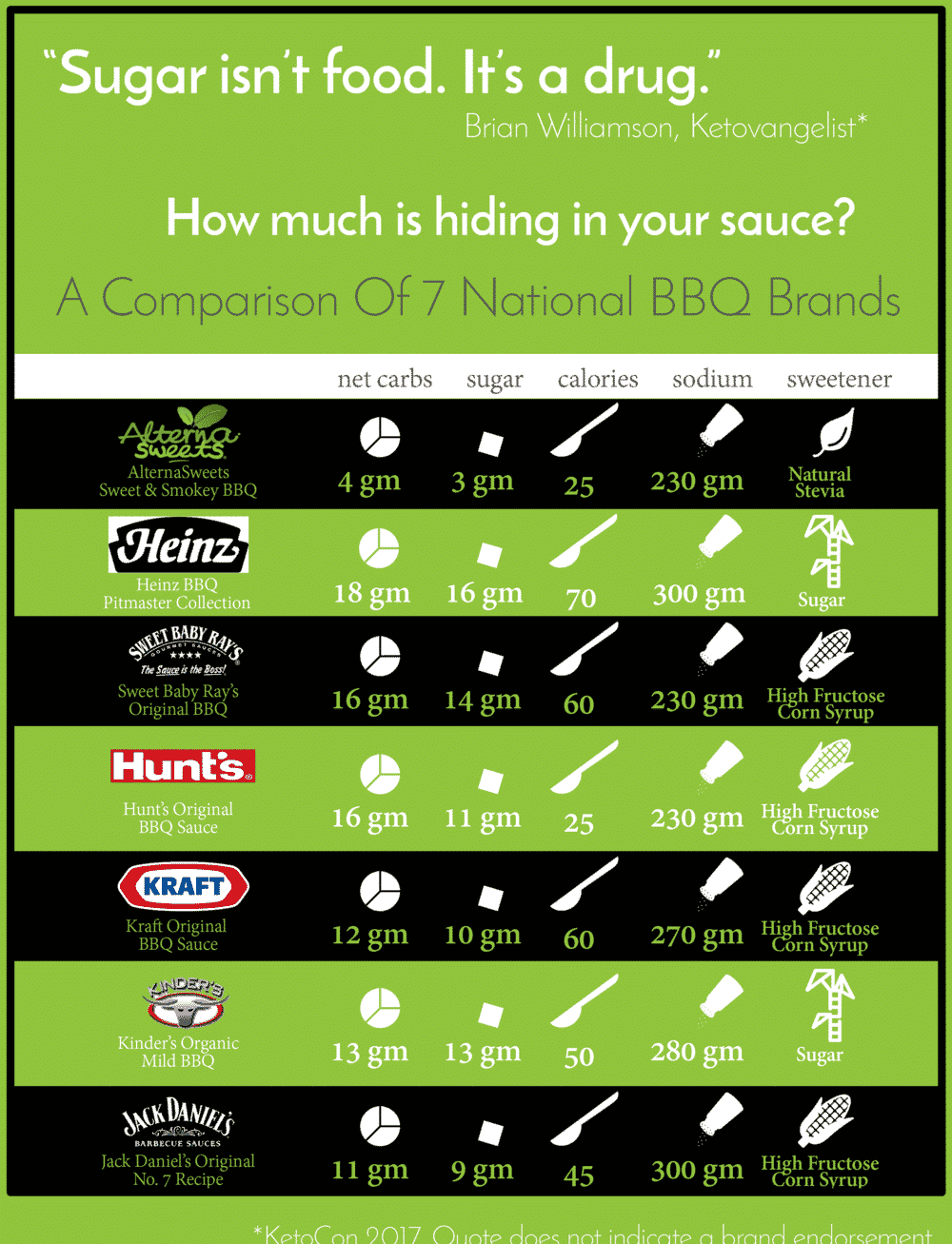 What are good side dishes for Slow Cooker BBQ Ribs?
If you're being traditional, then you can pair this with my cauliflower n' cheese bake and a sauteed leafy green like Kale or Collard Greens. You might also want to make this easy and pair it with a salad. If you do, then I'd recommend topping your salad with my Quick Creamy Caesar Dressing.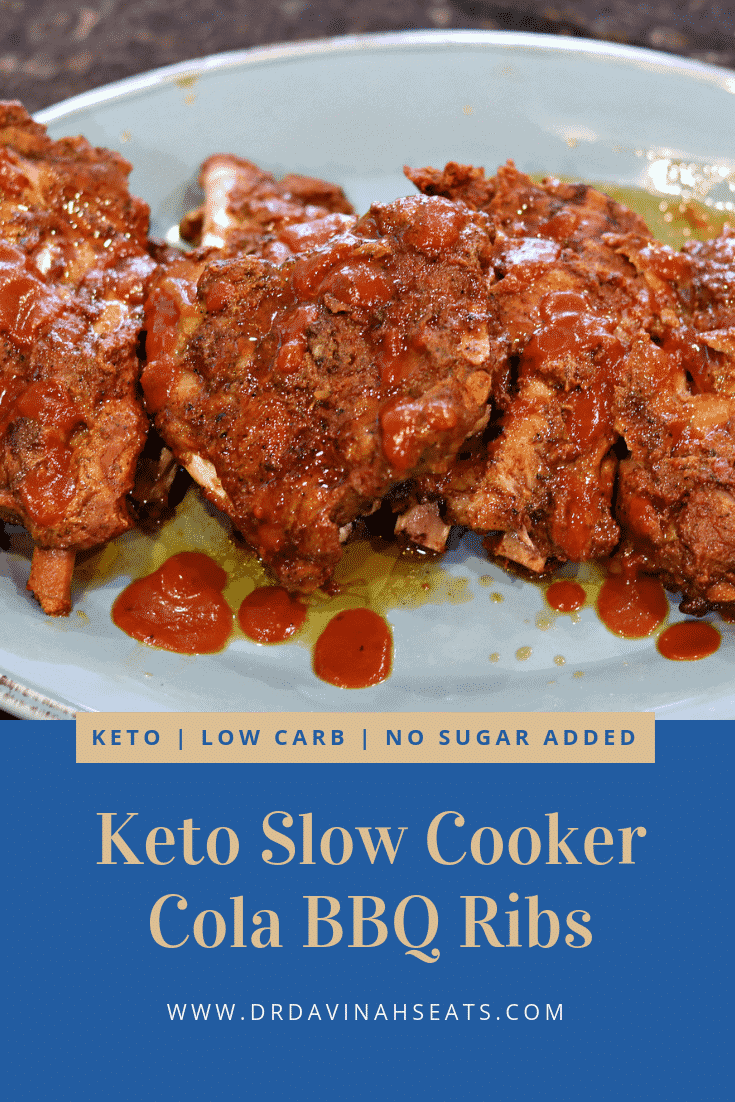 How is using the 360 Cookware Slow Cooker Base different from a Slow Cooker?
There are two primary differences between making these Keto Slow Cooker Cola BBQ Ribs in a traditional slow cooker and making them on the 360 Cookware Slow Cooker Base. Those differences are being able to use one pot for browning the meat and slow cooking and being able to use less liquid to get a tender result.
One Pot Browning
There's a bit of a debate about whether you should brown your meat before putting it into a slow cooker, but I'm a believer in taking the time to brown the meat. For me, this step intensifies the meaty flavor but also renders some of the fat. Typically, browning the meat means adding an extra pot. The 360 Cookware Slow Cooker Base turns your pot into a slow cooker. So, you simply brown the meat then use that same pot for the slow cooking process.
Less Liquid, More Tender
360 Cookware relies on vapor (or waterless cooking) technology. As a result, you can use less liquid when cooking to achieve more tender results. In this recipe, you use half of the liquid that you would in a traditional slow cooker. This means that if you are making these in a traditional slow cooker, then you need to double the liquid.
What is a keto-friendly replacement for Coca-Cola?
One of my favorite ways to make ribs is using Coca-Cola soda. I got this tip a long time ago from a BBQ competition team and have used their tip since. After starting keto, soda was not an option so I substituted it with chicken broth. Enter Zevia Sugar-free, All Natural Soda. Zevia's Cola works perfectly in this recipe! I get a variety pack of Zevia each month from Amazon, but you could also get a 6-pack from some markets, like Whole Foods.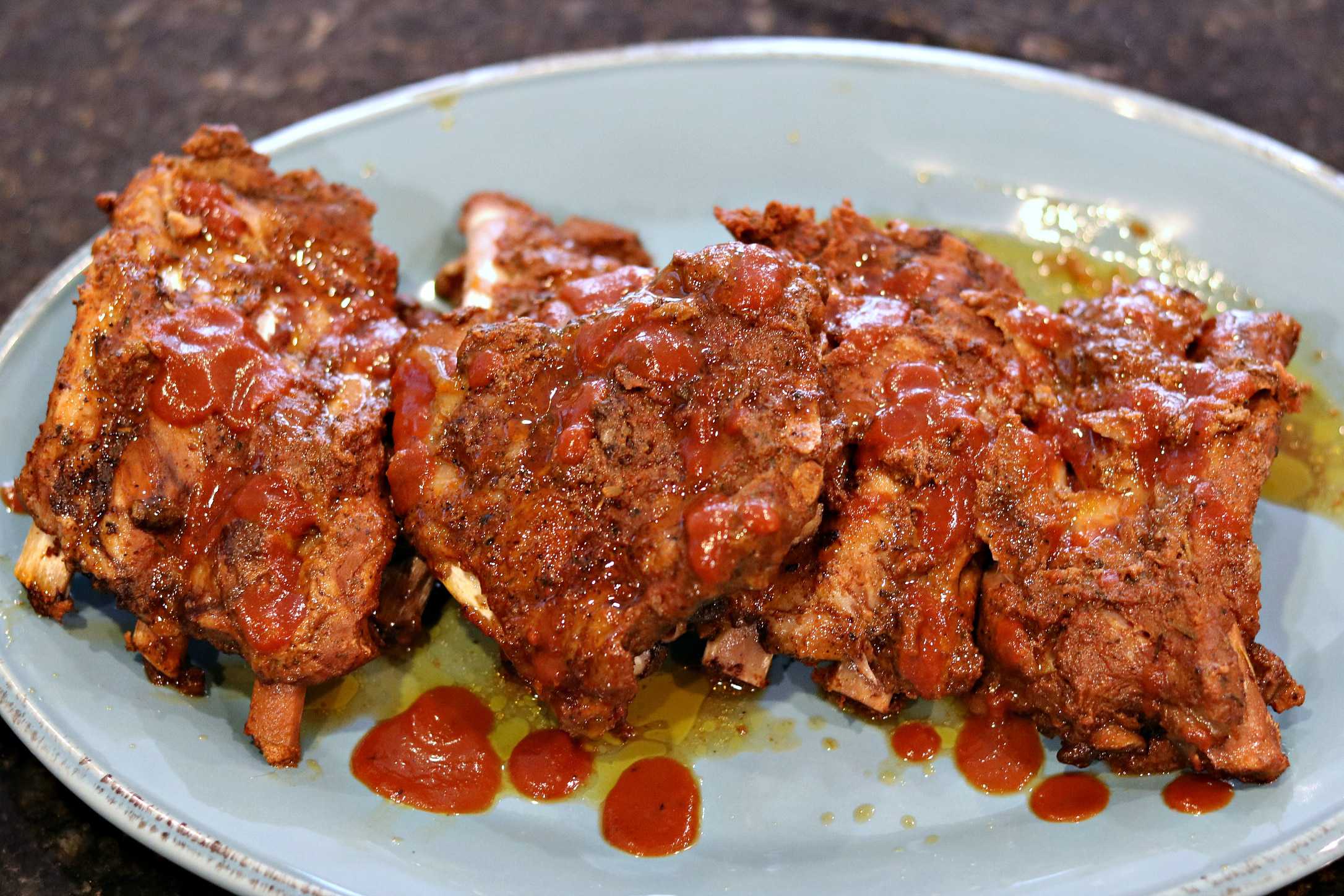 Total Time:
8
hours
10
minutes
A recipe for sugar-free, Cola BBQ ribs that is keto-friendly and low-carb
Please do not copy & paste (or screenshot) the instructions & ingredients for my recipes to social media or other websites. If you want to spread the word about this recipe (I'm grateful if you do), please use the buttons above to share or share a photo of this dish with a link to this recipe instead. © 2019 Dr. Davinah's Eats
Instructions
MAY BE NECESSARY: Remove the thin membrane (if it's there) from the back of the rib racks (The tutorial I always use can be found here). I've found that the ribs that I get from Trader Joes do not have it attached.

Sprinkle spicy dry rub on the ribs. Allow the ribs to marinate overnight

The next day: heat the 4 QT Stainless Steel Stockpot to medium heat

Add the sliced onions to the pan, followed by the ribs

Optional: Brown the ribs

Add the Zevia and the bbq sauce to the stockpot. Use a tong to incorporate.

Add the lid to the stockpot and set it on the Slow Cooker Base.

Turn the Slow Cooker Base to 3 and cook for 4-5 hours

Optional: Preheat the oven to 400 degrees. Pour additional BBQ sauce on the ribs and bake for 5 minutes. This step allows the rib tops and edges to char!
Video
Recipe Nutrition Facts
Nutrition Facts
Sugar-free Slow Cooker Cola-BBQ Ribs (Recipe + Video)
Amount Per Serving
Calories 389
Calories from Fat 243
% Daily Value*
Total Fat 27g 42%
Cholesterol 115mg 38%
Sodium 222mg 9%
Potassium 438mg 13%
Total Carbohydrates 3g 1%
Protein 31g 62%
* Percent Daily Values are based on a 2000 calorie diet.
Recipe Notes
After removing the membrane from the ribs, I used to cut the ribs into smaller, 3 - 4 bone sections. I found that this made it easier for the ribs to fit into my pot or Crockpot. I've found though that this step is not necessary. 
Did you make this recipe?
Use #DrDavinahS when posting your photo of this dish, and follow @DrDavinahS on Instagram
Click below to share this!