If you're feeling patriotic, then you'll love these Keto 4th of July & Memorial Day recipes. This collection includes keto bbq main dishes and some options that are perfect for a red, white, and blue food theme. Enjoy these with keto frozen desserts, no bake keto desserts, keto sides for bbq or my keto grilled food recipes.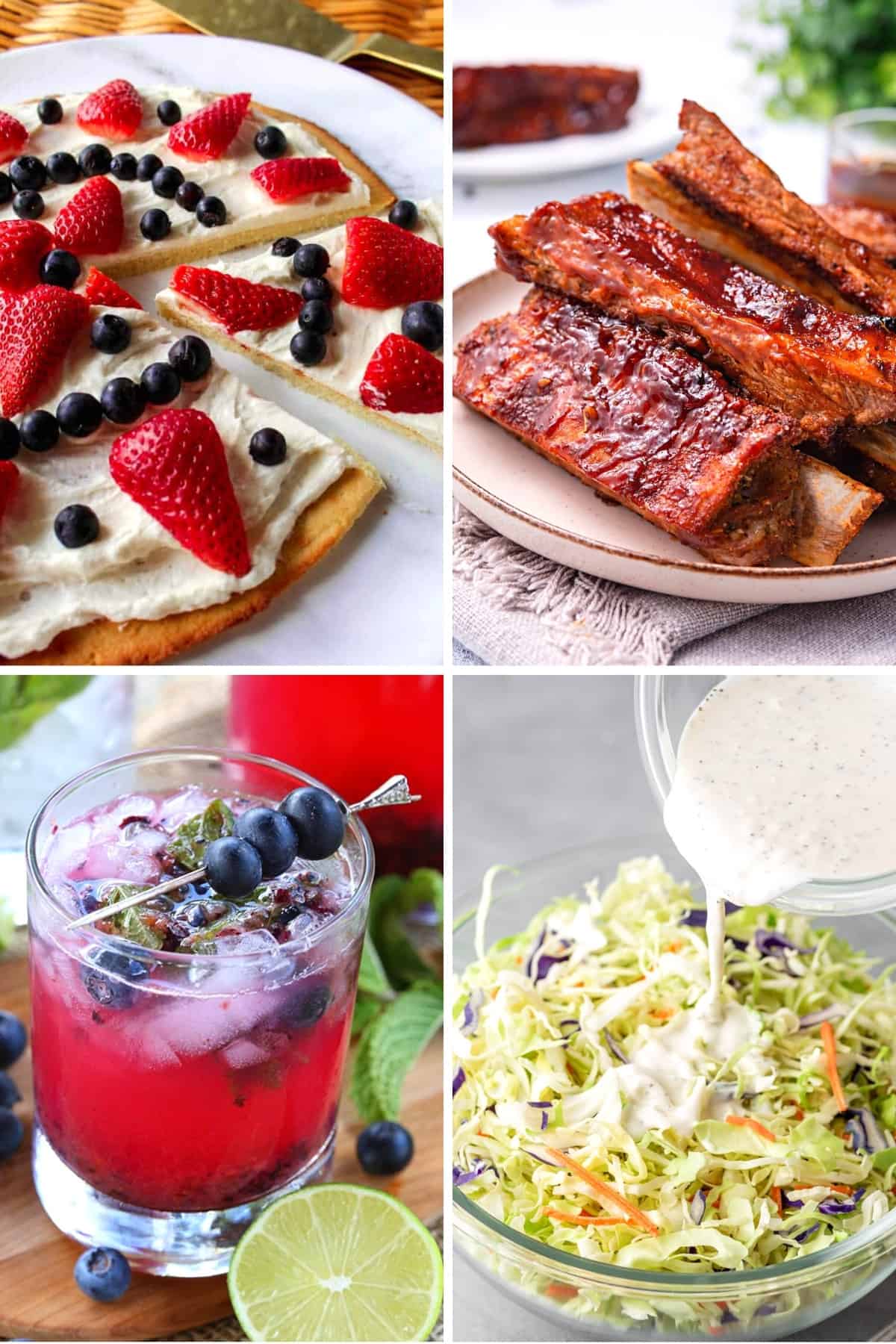 Why You Should Try These Keto Patriotic Foods?
When people celebrate, it nearly always involves food. And, if that food looks like it dressed up for the party, I like it even better.
"Themed" food adds an extra element of fun to life's special events, and that is no less true for patriotic holidays. From Memorial Day cookouts to 4th of July parties, serving up red, white, and blue food is a lot of fun.
Besides patriotic-colored dishes, 4th of July and Memorial day are about BBQ. Since the keto options can be limited, these low carb and keto 4th of July and Memorial Day recipes are here to help.
Keto Memorial Day & 4th of July BBQ Main Dish Recipes
BBQ seasoning is key to any Memorial Day or 4th of July meal. This keto-friendly dry rub goes great on everything from my fall off the bone ribs to chicken wings.
Make the day special in a fraction of the time with this recipe. Use my bbq seasoning and keto bbq sauce to amp up the flavor.
Bacon Wrapped anything is perfect. This keto Memorial Day or 4th of July recipe comes together quickly on an indoor or outdoor grill.
Make ribs in your air fryer in about 40 minutes with this recipe.
These chicken drumsticks come together with a few spices and some bbq sauce.
Make keto ribs slow and low using this recipe.
Keto Red, White & Blue Desserts
Berries, in small amounts, fit nicely in a keto lifestyle – and with colors of red and blue, they fit right in at patriotic celebrations. Bursting with the flavors of fresh fruit, these desserts are pure temptation!
Keto 4th of July & Memorial Day Beverages
If you are on the lookout for festive beverages to go with your patriotic-themed foods, you'll love this collection. Refreshing and fun, each drink or cocktail is easy to make and perfect for parties.
Sides & Salads
Alas, humans do not live by desserts and drinks alone. This collection of sides and salads offers up some great ideas for nutritious recipes that still fit nicely with the patriotic party theme.