Fried chicken might just be one of the most delicious foods I can think of. Unfortunately, most fried chicken recipes are loaded with carbs.
These Air Fryer Chicken Legs (Drumsticks) come out delightfully crispy and full of flavor in about 30 minutes. They are the perfect way to get fried chicken flavor without using breading or added grains.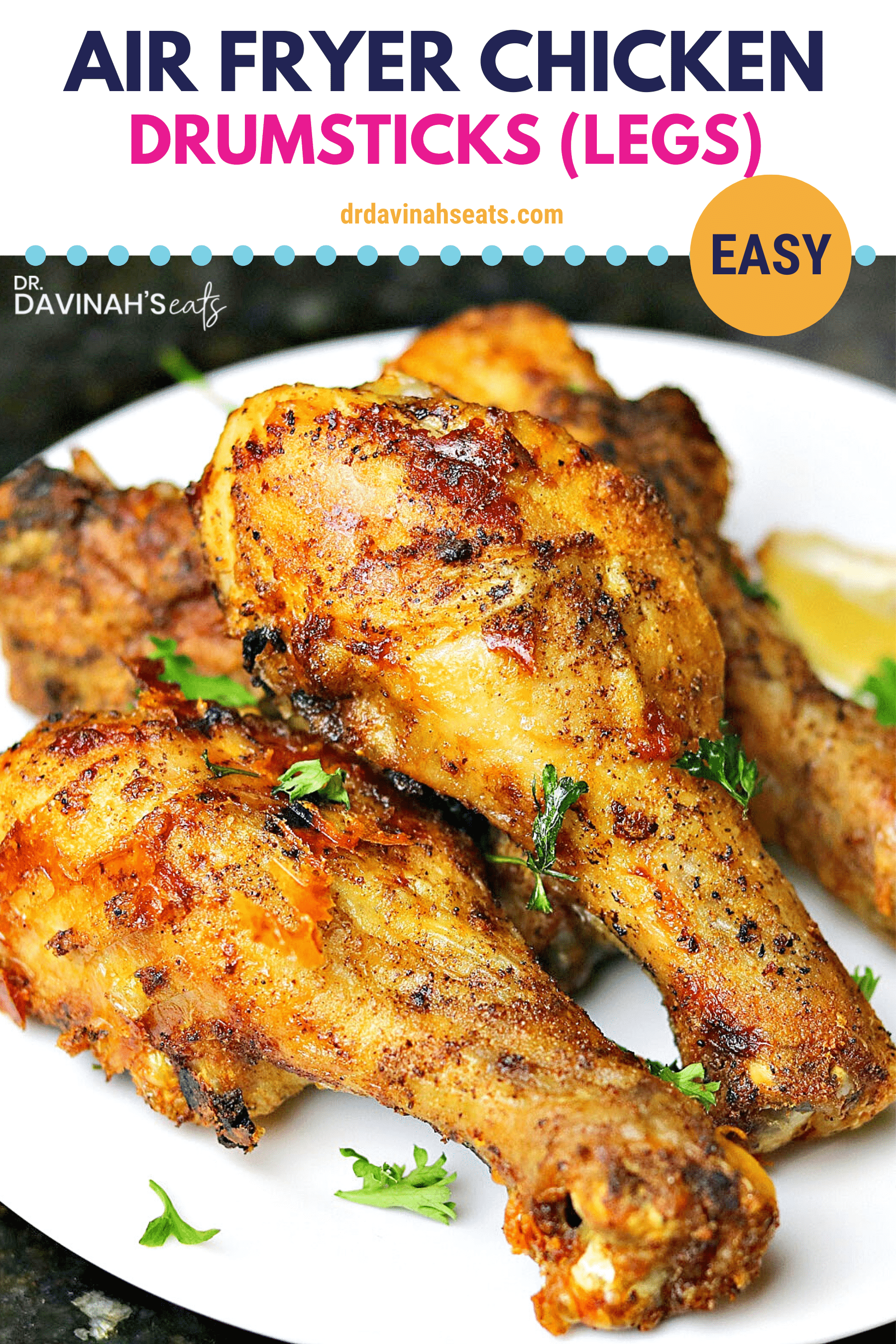 Why share Air Fryer Drumsticks
Air fryer chicken legs are one of my favorite easy keto recipes because they are perfect for busy people & families. They do not require much prep and the whole family will eat them happily even if they aren't following a low carb or keto diet.
Best of all? They cook up crispy in about 30 minutes total.
Getting air fryer chicken legs crispy with no breading
Traditional fried chicken relies on breading to help crisp up the outside of the chicken. Of course, breading, whether flour, bread crumbs, or a batter, is not keto or low carb friendly.
The solution to this is pretty simple. Baking powder, when added to the spice mix, allows the chicken skin to crisp up nicely in the air fryer. Along with a drizzle of olive oil, you will have crispy, great-tasting drumsticks without the use of bread crumbs and other grains.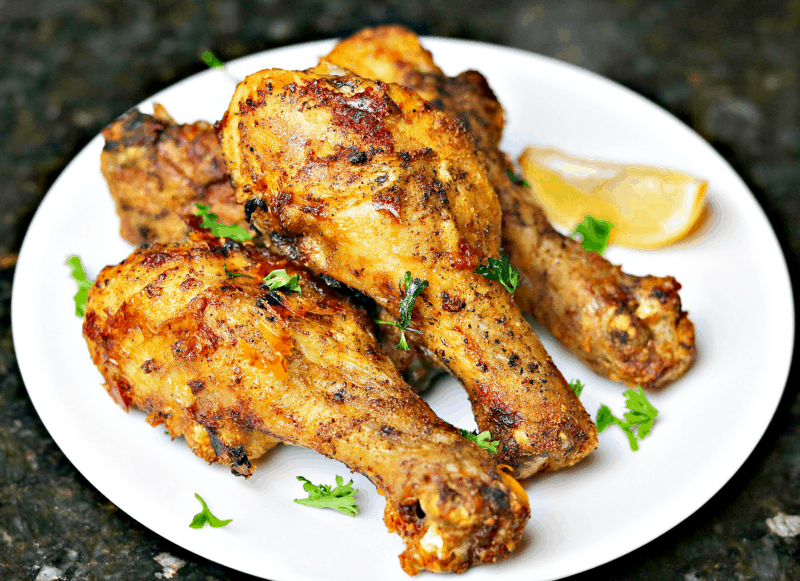 Ingredients in Air Fryer Chicken Legs
My air fryer drumsticks recipe uses only:
fresh chicken drumsticks

some spices

baking powder
You could use frozen chicken if you prefer, but you have to make sure you take the time to defrost them first. Frozen chicken legs also tend to be wetter, so you need to spend more time patting them dry.
Don't try to substitute baking soda for baking powder. Trust me. I know from experience that the drumsticks will have a terrible taste, and you'll waste perfectly good drumsticks for nothing.
The spices you need include:
Sea Salt

black pepper

smoked paprika

garlic powder

onion powder
How do you cook drumsticks in an air fryer
The Ninja Foodi (all-in-one multi-cooker) makes it easy to cook air-fried meals like chicken drumsticks. In fact, it's one of my favorite kitchen tools for everything from slow cooker pork roasts to one-pot keto meatballs.
To make drumsticks in the Foodi, you need to start by patting the chicken legs dry with paper towels. Be sure to remove as much of the moisture as possible. Drier chicken results in a crispier end result.
Next, you need to mix up the spices, salt, and baking powder in a small bowl. Once it is well blended, place the chicken legs in a bowl or a large zip lock bag. Sprinkle the spice mix on top and give them a toss to coat the legs with the mixture.
Place the chicken into the air fryer cooking basket and drizzle a little bit of oil on them. The oil will help give them a crispier skin.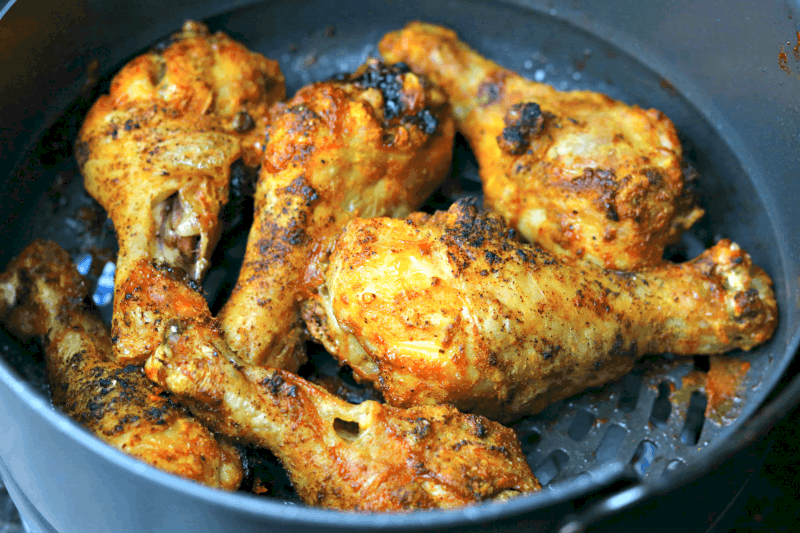 Next, set your Foodi to Air Crisp and 400 degrees. If you are using another air fryer, set it the same 400-degree temperature and use the frying feature.
You'll want to cook the chicken drumsticks for about 12 to 15 per side, for about a 24 to 30 minutes total cook time.
How long to cook chicken legs in an air fryer
The technical answer for how long to cook chicken drumsticks is to cook until the chicken reaches an internal temperature of 165 degrees. To confirm this, you'll need a meat thermometer. But, of course, not everyone has a meat thermometer.
For bare minimum doneness, 24 total minutes in an air fryer set to 400 degrees will adequately cook the drumsticks. But, the longer you keep them in the air fryer, the crispier they will get. So, if you want extra crispy drumsticks, cook them for about 30 total minutes.
One great thing about air fryers generally is that you can always open the lid, check on your meat, and continue cooking if you need more time.
Can you put foil in an air fryer?
Foil is a great trick to help keep baking pans clean or cleaner when cooking in the oven. If you like using foil for that purpose, you are in luck. You can line your cooking basket with foil or parchment paper. This can help make clean up easier when you are done cooking.
Since the Foodi cooking basket and cooking pot are dishwasher safe, I don't bother with the extra lining.
Side Dishes for Air Fryer Drumsticks
Chicken drumsticks can go with a lot of different side dishes and dips. What you serve it with will depend on what you are in the mood for that night.
If you want a great vegetable side, you can try my easy sauteed asparagus. Or, if you want a bit more of a comfort meal, you can pair the air frier drumsticks with keto creamed spinach, loaded cauliflower, or roasted garlic cauliflower mash.
Or, you can try it with a dipping sauce. One of my favorites is low carb sweet chili sauce, which I used to make Keto Asian sticky wings and would give these drumsticks an Asian flare.
More Ninja Foodi Air Fryer Recipes
If you love your air fryer (and who doesn't?), check out these other Foodi recipes that use an air fryer: