This post may contain affiliate links to products I use and highly recommend. You can read my full disclosure here.
Click below to share this!
A quick recipe for Air Fryer Keto Buffalo Wings that is perfect as a keto-friendly appetizer or main protein.
This easy, Air Fryer Keto Buffalo Chicken wings recipe makes the perfect 30-minute meal. I crisp the chicken wings in a Ninja Foodi air fryer, then top them with my easy buffalo chicken wing sauce.
Since Buffalo Wings go hand-in-hand with blue cheese dressing, I also included an easy Blue Cheese Dressing recipe too!
These wings are one of my favorite recipes on a game day or when entertaining a crowd. These are naturally keto-friendly and low carb.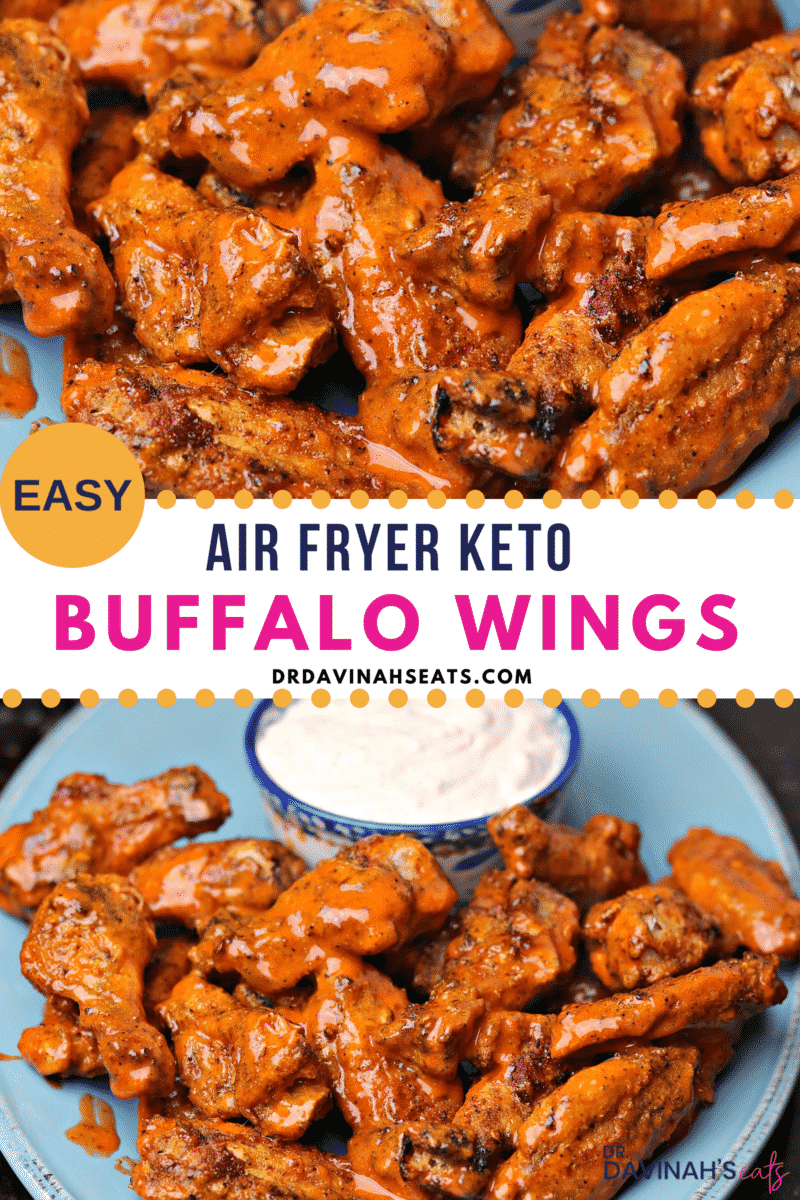 Why share a Keto Buffalo Chicken Wings post?
As I mentioned a few times across the blog, my husband and I love Buffalo Wild Wings. It is one of our favorite places to go because most of their traditional wings have little to no carbs.
This means that when we visit, there are several things that we can eat there, even though they are all wings.
In fact, some of my favorite traditional wings to eat at Buffalo Wild Wings are:
Blazin'
Lemon Pepper
Chiptole BBQ
Parmesan Garlic
The only problem with eating wings as take-out multiple times per week is that it can get pretty expensive. Plus, even though their wings are great, there is nothing like having and making your wings at home.
So, I'm sharing this post as a way to help you make these delicious wings at home.
How many servings are in this Air Fryer Buffalo Wings recipe?
This recipe makes about 14 Air Fryer Buffalo Chicken Wings and 1 cup of blue cheese dressing.
This recipe has 3 servings. For me, this worked out to about 5 wings per person. You do not have to have the blue cheese sauce, but I highly recommend it.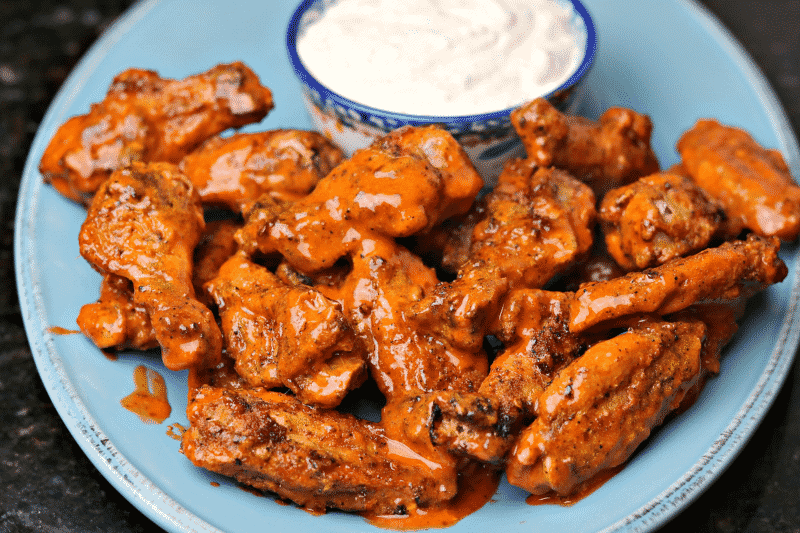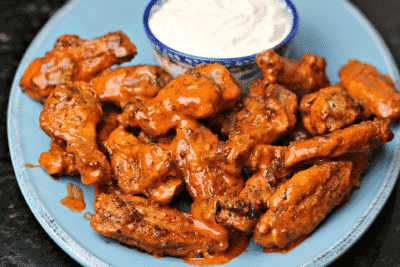 How to make Air Fryer Keto Buffalo Chicken Wings:
Remove the wings from the refrigerator about 30 minutes before you cook them
Make the spice mixture that I share below and toss it on the wings
Add the wings to your air fryer on 390-400 degrees and cook for 12-15 minutes per side
Make the sauce and toss the wings in it
Serve immediately so that they remain slightly crisp
Which air fryer did you use?
When I first shared this recipe, I made these in this air fryer. However, recently, I gave my air fryer away and have been using the air crisp setting on this multi-cooker.
As I mentioned in my Keto Gift Guide, I prefer to have a multi-cooker to save space and be able to make a range of recipes.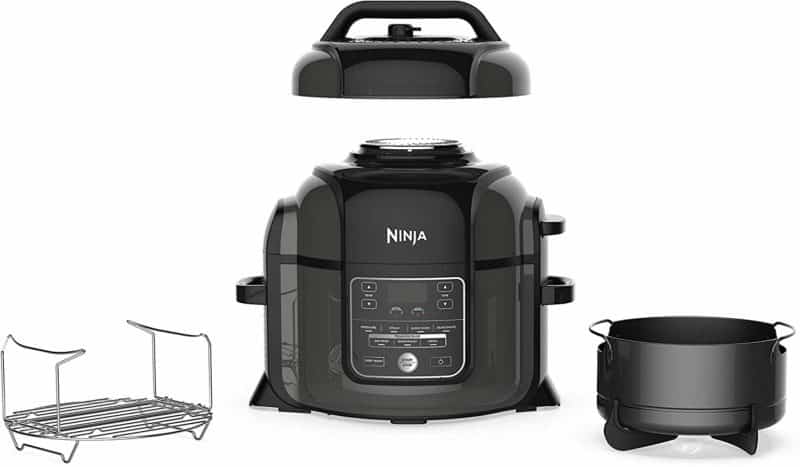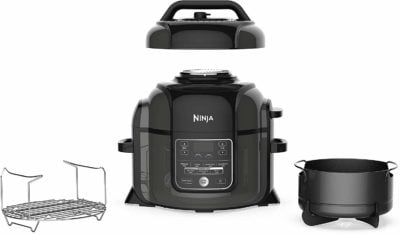 If you don't have an air fryer, you can make these Buffalo Wings in an oven
If you don't have an air fryer or want to make more than 14 chicken wings, then I'd recommend that you make these in an oven. I make the wings in the oven using my Oven Fried Chicken recipe.
You'll notice that the seasoning mixture is the same and that the rest of the steps are also the same. If you make more wings, don't forget to make more sauce!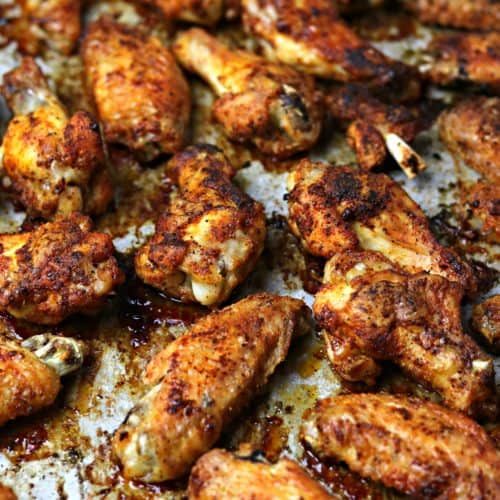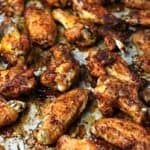 Ghost Peppers: How My Trip to Buffalo Wild Wings encouraged me to turn up the heat!
You'll notice that this recipe includes smoked ghost peppers. It is totally optional to include these, but we really love our food spicy.
I decided to try adding ghost peppers to my buffalo wings after having Blazin Wings at Buffalo Wild Wings.
If you like the heat as we do, you can add the smoked ghost pepper spice to the sauce to take the heat to a new level of spicy.
But, if super spicy food is not your thing, then you can absolutely omit it!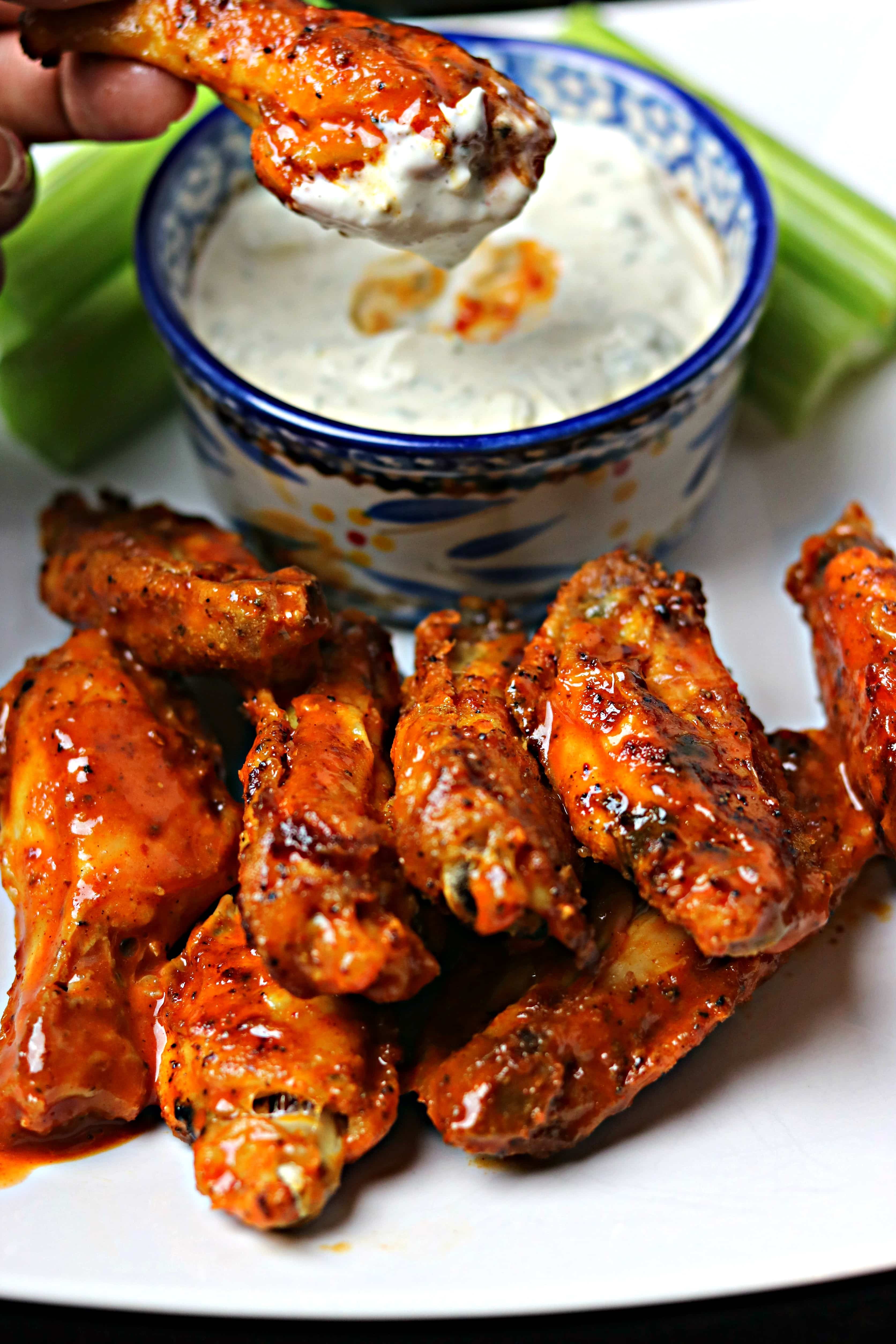 Where do you get the ghost peppers? Do I have to use them?
I picked up the Smoked Ghost Pepper Chilis spice mix from Trader Joes for $1.99. If it isn't available in your local Trader Joe's, I've also found it on Amazon.
This ingredient is completely optional. I do recommend that you "turn and taste" when adding these peppers to your dish.
This means that as you add one turn of Smoked Ghost Pepper Chilis to the sauce, then you should stop and taste the sauce to make sure you can handle the heat. This way, you'll be able to have the kick without it being overwhelmingly spicy.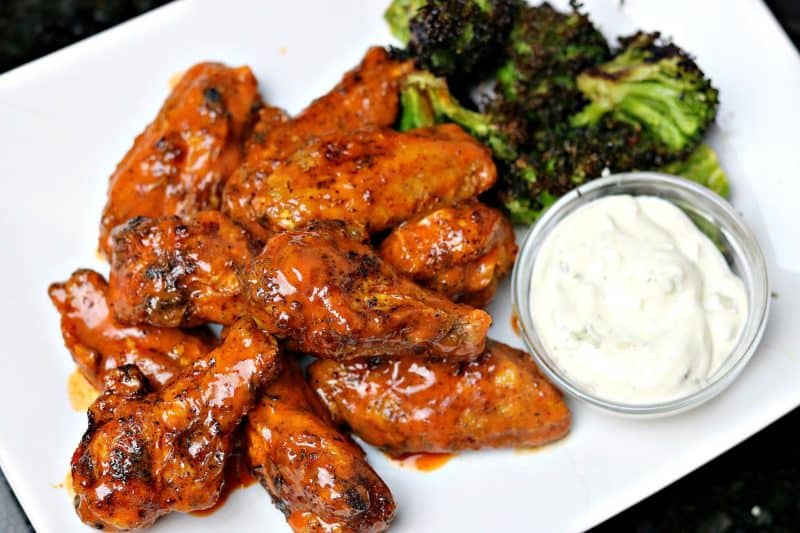 Are the wings fresh or frozen?
I always cook my meat fresh or thawed. For me, when I cook meat that's ice-cold or straight from the fridge, I find that it cooks inconsistently. Some meats also get tough when they are placed in a hot pan while they are cold.
In this recipe, I use fresh wings. I typically allow the wings to sit out while the oven preheats (if I'm baking them) or while I prep other parts of the meal.
A recipe note about salting:
I reduced the amount of salt in this recipe (compared to the Air Fryer Garlic Parmesan Wings) because I find that Buffalo Wing sauce is already pretty salty.
If you want more salt, feel free to add another 1/4 tsp of salt to the wings after they are cooked. Remember, you can always add salt, but you can't take it away once a dish is over salted.
Other Recipes You Might Be Interested in:
If you love all things buffalo, then you should try this Easy Buffalo Shrimp recipe. It includes buffalo shrimp and buffalo coleslaw on a lettuce wrap and makes for an easy meal.
Beside those, if you enjoy saucy wings like me, then you should visit my keto chicken wings recipes post. It includes more than 10 wing recipes along with sauces that are free from added sugar and unnecessary carbs.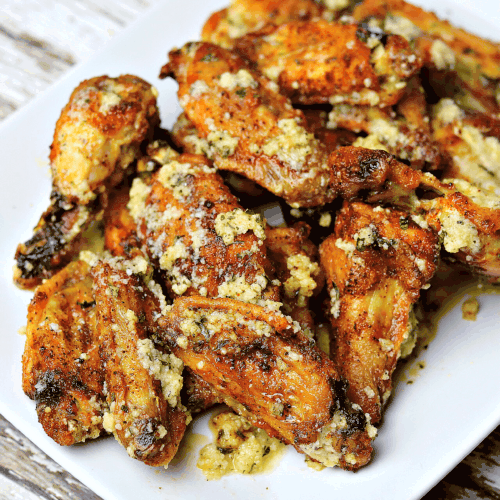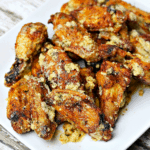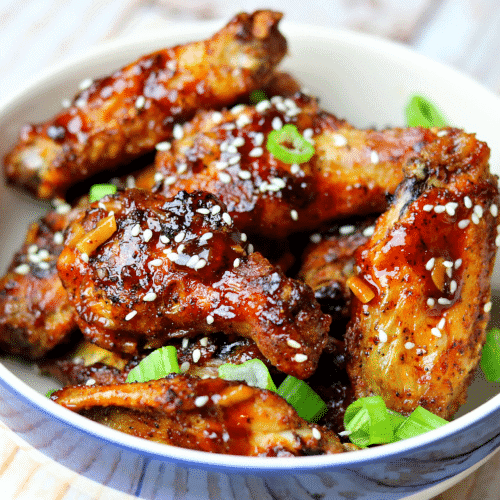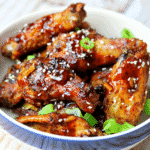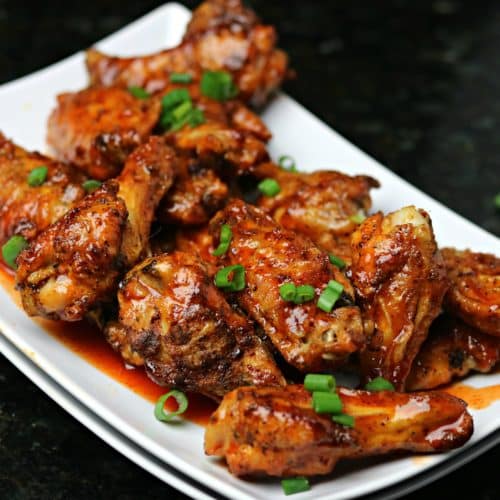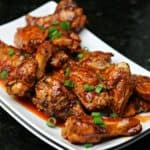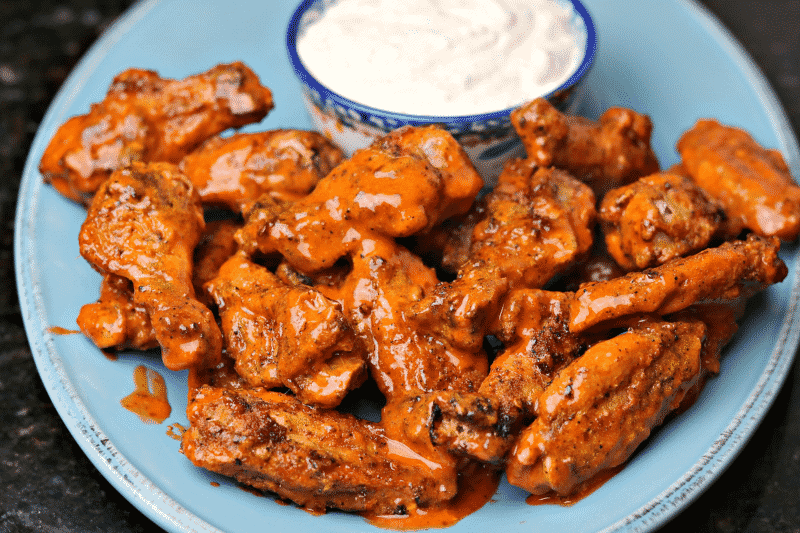 A quick recipe for Air Fryer Keto Buffalo Wings that is perfect as a keto-friendly appetizer or main protein.
Want to share this recipe?
To spread the word about this recipe, please save it to Pinterest, share a link to it, or rate it if you loved it. Please do not copy & paste (or screenshot) my recipes to social media or other websites.
Ingredients
Buffalo Wing Sauce
1/2

cup

Franks Red Hot Wing Sauce

1

tbsp

salted butter

or ghee if you are on Whole30

1/4

tsp

Smoked Ghost Pepper Chiles

optional - about 2 turns on the Trader Joes grinder
Tool I Used
Instructions
Remove the chicken wing parts from the refrigerator and pat dry (removing as much moisture as possible helps to have a crispy wing skin)

Mix the sea salt, black pepper, paprika, garlic powder, onion powder and baking powder in a small dish or ramekin

Sprinkle seasoning mixture on the wings and toss to coat

Place wings on a flat layer in the airfryer

Use the air-fryer programmed settings for chicken (400 degrees) and cook for 25-30 minutes. I set my timer 15 minutes, flip the wings, then check the wings at 5 minute intervals until the skin is crispy enough for me. Getting the wings crispy quickly requires you to flip them about halfway through.

Mix all of the ingredients for the Buffalo Wing sauce by stirring them in a small bowl with a fork (keep mixing until the melted butter is well incorporated)

Toss the wings in the Buffalo Sauce mixture and serve immediately with a side of Blue Cheese Dressing
Recipe Nutrition Facts
Nutrition Facts
Air Fryer Keto Buffalo Chicken Wings
Amount Per Serving
Calories 314
Calories from Fat 207
% Daily Value*
Fat 23g35%
Cholesterol 104mg35%
Sodium 1547mg64%
Potassium 595mg17%
Carbohydrates 3g1%
Protein 23g46%
Vitamin A 461IU9%
Vitamin C 1mg1%
Calcium 188mg19%
Iron 2mg11%
* Percent Daily Values are based on a 2000 calorie diet.
Did you make this recipe?
Share your photos & mention @DrDavinahS! I love seeing them!
Nutritional Disclaimer
The nutritional information comes from Spoonacular API, a database of food ingredients. The nutritional information for any recipe will vary based on the exact product you use and the brand. I do not include erythritol or sugar alcohols in the final carb or net carb count as it does not have any impact on my blood glucose levels. Before starting keto or a low-carb eating plan, you should consult your doctor. I am sharing my personal experiences and none of the information included in my recipes or throughout the site should be taken as medical advice.