This post may contain affiliate links to products I use and highly recommend. You can read my full disclosure here.
Click below to share this!
These Keto Italian Sausage Meatballs are loaded with bold flavors and can be yours with one pot and 30 minutes. It's the perfect way to satisfy your meatball cravings while omitting the added carbs from breadcrumbs.
Meatballs are classic comfort food. And, while you might think that most are low-carb, unfortunately, they aren't. In fact, they are typically loaded with breadcrumbs and some even have added sugar. In this easy keto Italian sausage meatball recipe, I get rid of grains and ditch the added sugar. To keep this super easy and perfect for even beginner cooks, I get most of the flavor from Italian sausage that I picked up at the store. Includes Ninja Foodi and skillet directions.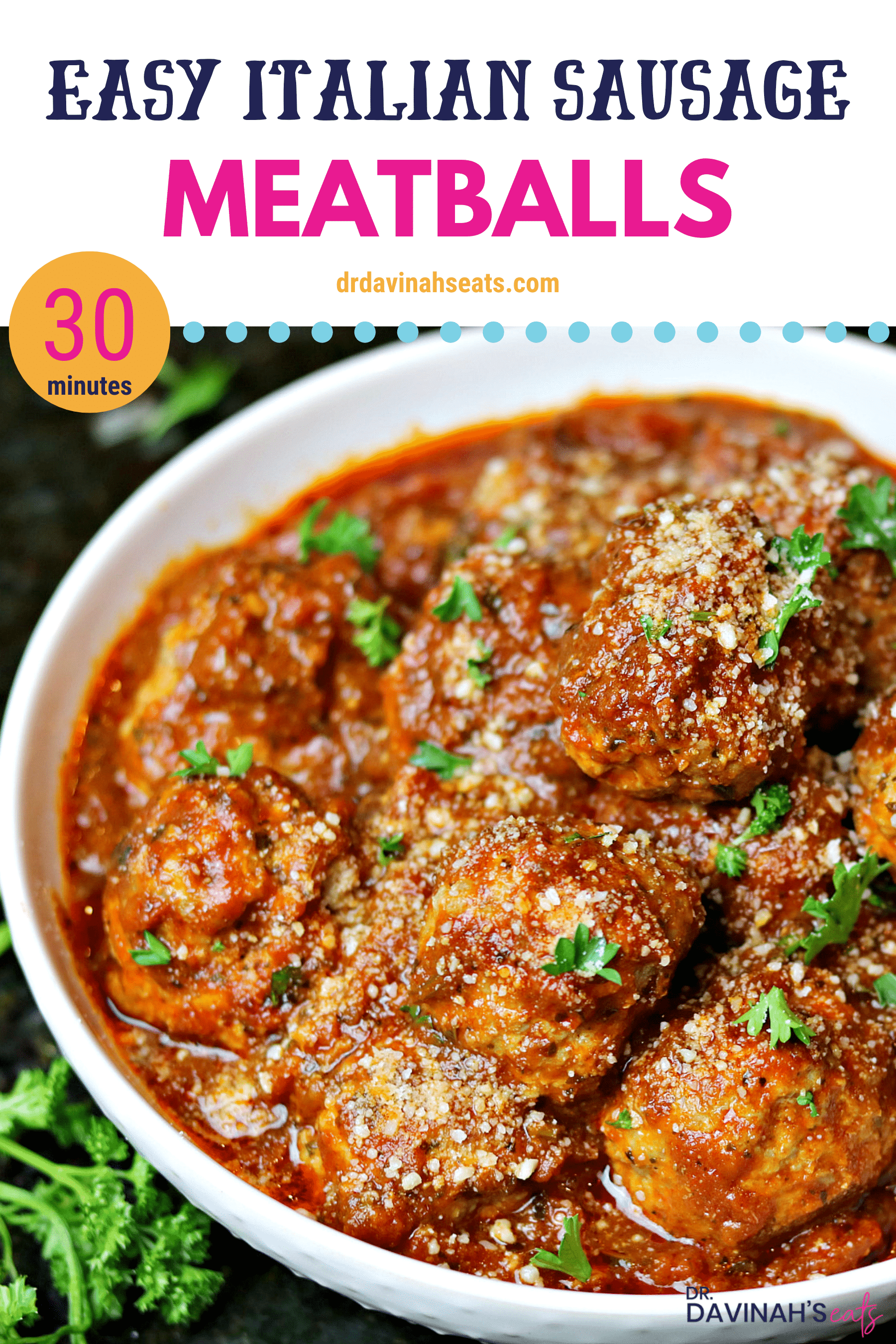 Why share this Keto Meatballs recipe?
If you have busy weeknights or activity-filled weekends, you need a recipe that you can throw together quickly. My Italian sausage meatballs are just that.
Quick and easy, they are the perfect home-cooked meal for busy folks and those who want to meal prep.
Besides being easy, they are one of several keto remakes to Italian food that gives all of the bold flavors without the carbs.
Ingredients in Italian Sausage Meatballs
You likely already have many of the ingredients for this recipe on hand in your keto pantry. All you will need to make this recipe is:
Italian Sausage with the casing removed – mild or hot

large egg (beaten)

heavy cream

grated parmesan

tomato basil sauce or your preferred store-bought sauce, just make sure you check the label for added sugar content
Substitutions for Italian Sausage Meat
Italian sausage is very popular, which means there are several variations to choose from. To start, you can choose hot or mild/sweet. Be sure to read your labels to ensure that your version doesn't have a sugar-filled spice mix.
If you don't eat pork, don't fret, you also use other Italian-flavored meats. In most markets, you should be able to find ground turkey or chicken sausage meat.
Most times, you can find these in the meat display at the supermarket. But, if not, you can get sausage links from your market's butcher department. In both cases, you just need to remove the casing.
Keto Substitutes for Breadcrumbs
Breadcrumbs are the typical binding agent in meatballs, which are not keto-friendly or low-carb. For my recipe, I use almond flour in place of breadcrumbs.
I find that almond flour is one of the best substitutes. I've tried coconut flour, but that generally makes meatballs and other dishes dry. That's not what we want for our meatballs.
If you prefer, you can also try using pork rind breadcrumbs. Just make sure that you get the unseasoned variety.
How to Make Keto Italian Sausage Meatballs
Blend the Seasonings and Sausage Meat
Keto Italian sausage meatballs are easy to make and usually take me less than 5 minutes to prepare. To start, mix the spices, almond flour, heavy cream, and egg in a medium to a large bowl.
Once the ingredients are well combined, add in the sausage meat and mix it all together.
Form Meatballs
When the Italian sausage meat and other ingredients are thoroughly mixed together, form them into 18-20 meatballs.
To do this, take a scoop out of the mixture using either a large spoon or ice cream scoop.
Roll the meat into a ball shape and set aside. I cook them after all of the balls are formed.
Sear the Meatballs in the Ninja Foodi or a skillet
Once all of the meatballs are formed, it's time to brown them on the top and bottom.
If you're using the Ninja Foodi, like I am, all you need to do is turn on the "Sear/Sautee" mode on "high." Sear the top and bottom of the meatballs for 5 minutes. When both sides are seared, pour in the sauce. Let the sauce come to a simmer and simmer the sauce and meatballs for 15 minutes.
If you are not using a Ninja Foodi, you can use a large deep pan instead. The steps are very similar. Heat the large pan on medium-high heat. Sear both sides for about 5 minutes per side. Then add the sauce and let it simmer for 15 minutes.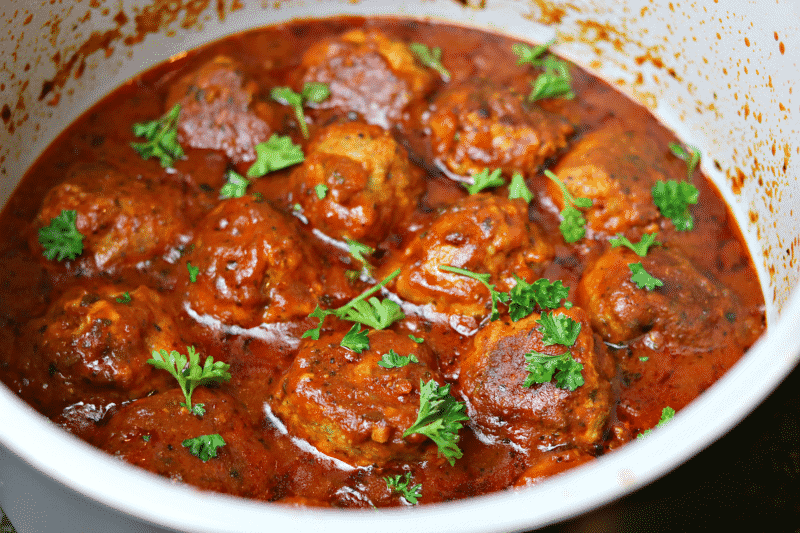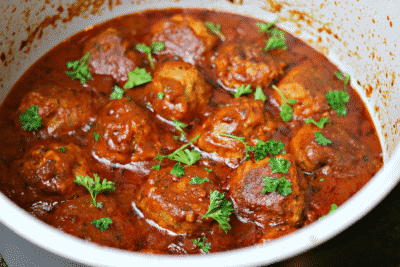 How to Make Italian Sausage Meatballs in the oven
If you prefer, you can make these Italian sausage meatballs in the oven. I don't like to do this because it means not having a one-pot meal. But, if you prefer to bake them, here is how to do it.
Preheat your oven to 400 degrees while you get the meatballs prepared. Place the formed meatballs onto a parchment-lined baking sheet. Leave a little space between the meatballs so they can cook evenly.
Bake the meatballs for 20 minutes at 400 degrees. As they are cooking, use a medium-sized pot to heat up the sauce on the stovetop. This can be done at medium-low to medium heat. When the meatballs have cooked, you can add them to the sauce in the pot or plate the meatballs and pour or spoon the sauce over the meatballs.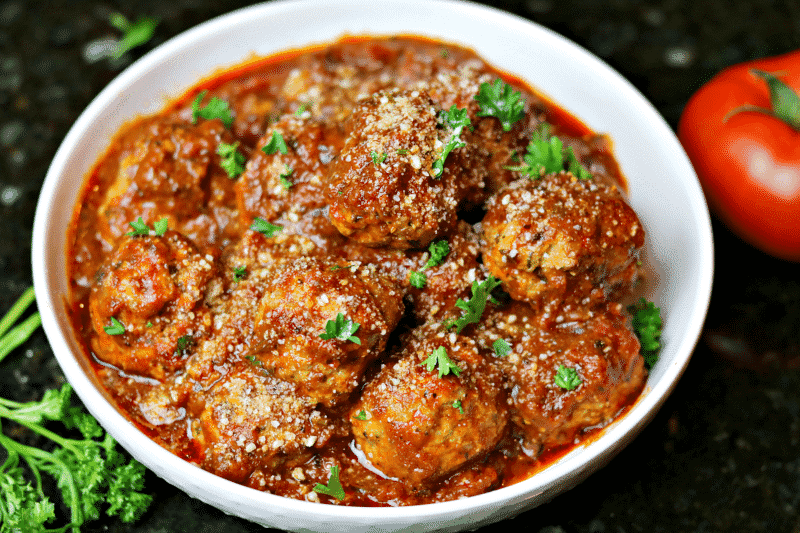 What do you eat with this Keto Meatballs recipe
You might think that meatballs only go with spaghetti or on a sandwich. But in truth, they can go with a lot of different things and are great to eat on their own.
Here are some of my favorite pairing options for these Italian sausage meatballs: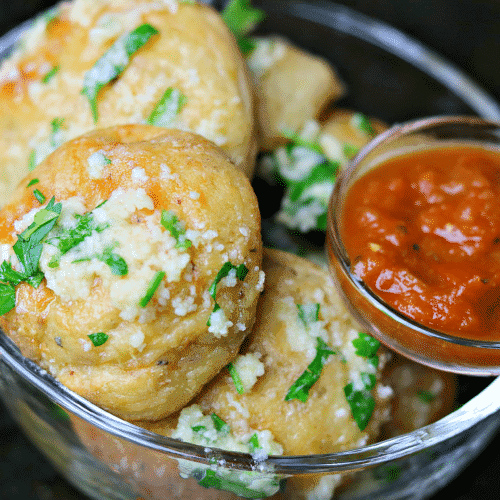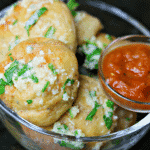 You might also opt to use these as part of my easy Keto Pizza Casserole.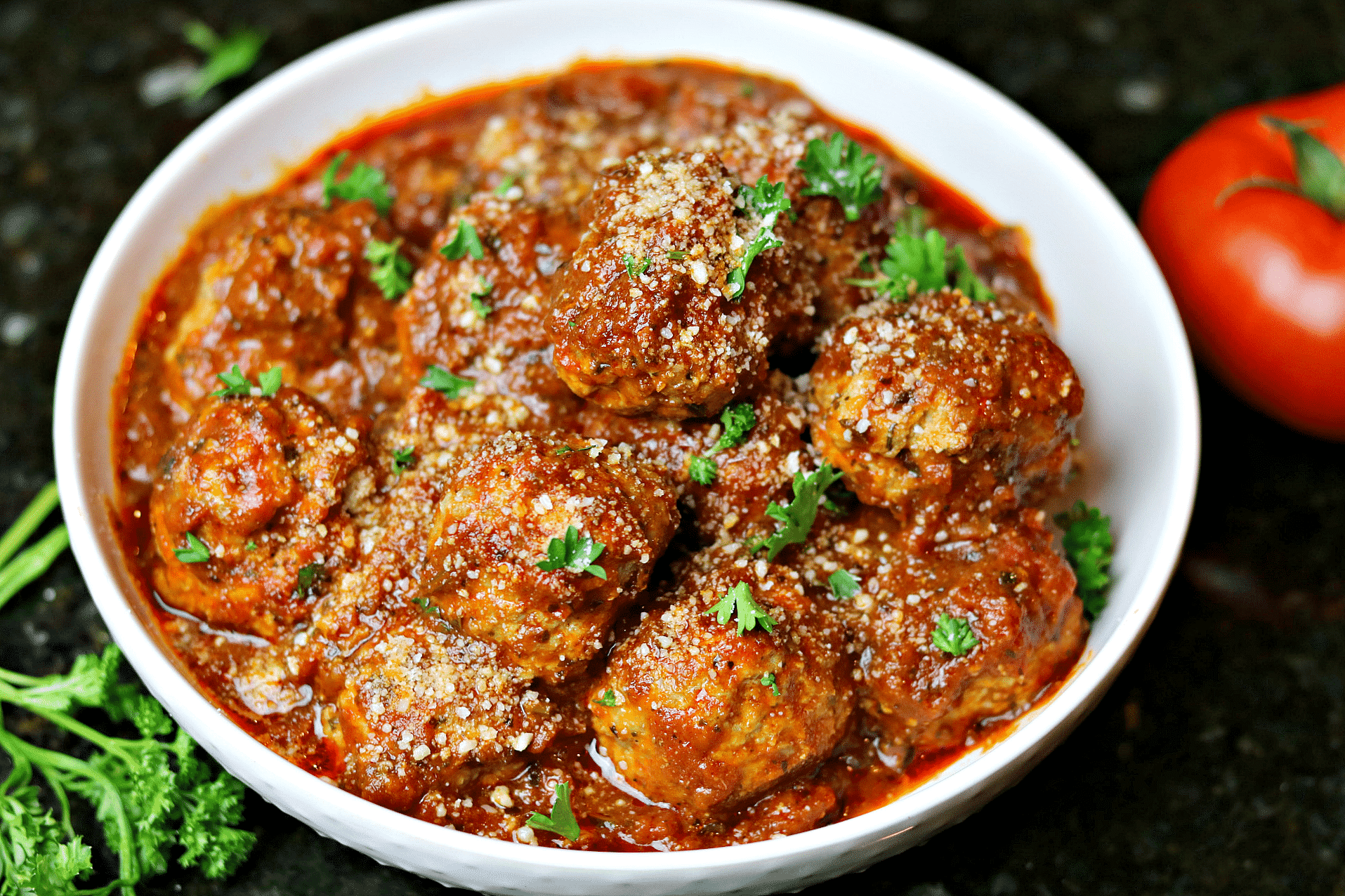 These Keto Italian Sausage Meatballs are loaded with bold flavors and can be yours with one pot and 30 minutes. It's the perfect way to satisfy your meatball cravings while omitting the added carbs from breadcrumbs.
Want to share this recipe?
To spread the word about this recipe, please save it to Pinterest, share a link to it, or rate it if you loved it. Please do not copy & paste (or screenshot) my recipes to social media or other websites.
Instructions
Add the spices, almond flour, heavy cream, and egg to a bowl and mix to incorporate

Add the sausage meat and incorporate it

Form 18-20 meatballs by scooping the meat with a large spoon or ice cream scoop

Sear the meatballs for 5 minutes in the Ninja Foodi cooking pot using the "Sear/Saute" function on High. You can also add the meatballs to a large pan.

Flip the meatballs and sear them for another 5 minutes.

Add the tomato basil sauce to the pot. Simmer the meatballs in the sauce for 15 minutes
Recipe Nutrition Facts
Nutrition Facts
Keto Italian Sausage Meatballs Recipe
Amount Per Serving
Calories 449
Calories from Fat 351
% Daily Value*
Fat 39g60%
Cholesterol 113mg38%
Sodium 1042mg43%
Potassium 526mg15%
Carbohydrates 7g2%
Protein 18g36%
Vitamin A 54IU1%
Vitamin C 2mg2%
Calcium 50mg5%
Iron 1mg6%
* Percent Daily Values are based on a 2000 calorie diet.
Did you make this recipe?
Share your photos & mention @DrDavinahS! I love seeing them!
Nutritional Disclaimer
The nutritional information comes from Spoonacular API, a database of food ingredients. The nutritional information for any recipe will vary based on the exact product you use and the brand. I do not include erythritol or sugar alcohols in the final carb or net carb count as it does not have any impact on my blood glucose levels. Before starting keto or a low-carb eating plan, you should consult your doctor. I am sharing my personal experiences and none of the information included in my recipes or throughout the site should be taken as medical advice.