A Keto Pancake recipe that is easy to make, fluffy, and delicious.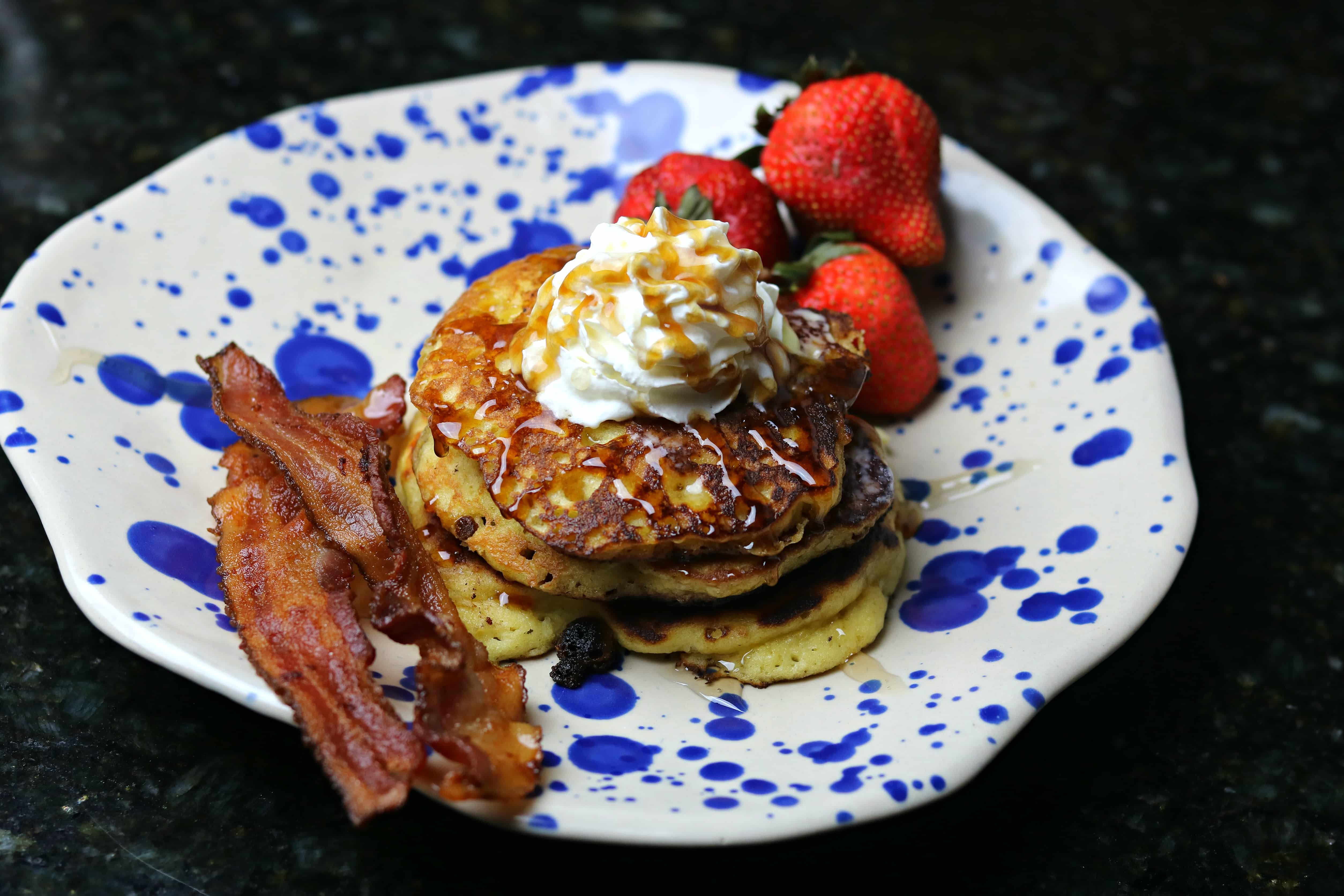 At least two weekends out of every month, my husband and I have a weekend brunch! It's filled with bacon, cheese eggs, and pancakes!
Since we're convinced that keto can be a lifestyle, I started testing Keto Pancake recipes! These keto almond flour pancakes are quick to make, fluffy, and delicious!
Tips for making Keto Pancakes
Use slightly less than 1/4 cup of batter per pancake
As I looked for Keto Pancake recipes, one of the common things that I read about was how easy it was to burn them. They are easy to burn because these pancakes are almond flour based. For me, the key to not burning these meant using less batter than I'd normally use.
In this case, I still used my 1/4 cup measuring cup, but I didn't fill it. By keeping the pancakes small, they cook more evenly and there's less of a chance of burning them.
Make 4 pancakes at a time
Similar to the tip above, another strategy that prevents burning Keto Pancakes is to only make a few at a time. This allows you to monitor the pancakes because they cook quickly.
Use salted butter when cooking
Salted Butter takes these pancakes to a new level. It brings out all of the sweet flavors. I use a sliver of salted butter per batch when cooking. If you omit the salted butter, these will still taste delicious, but I prefer to make these with salted butter.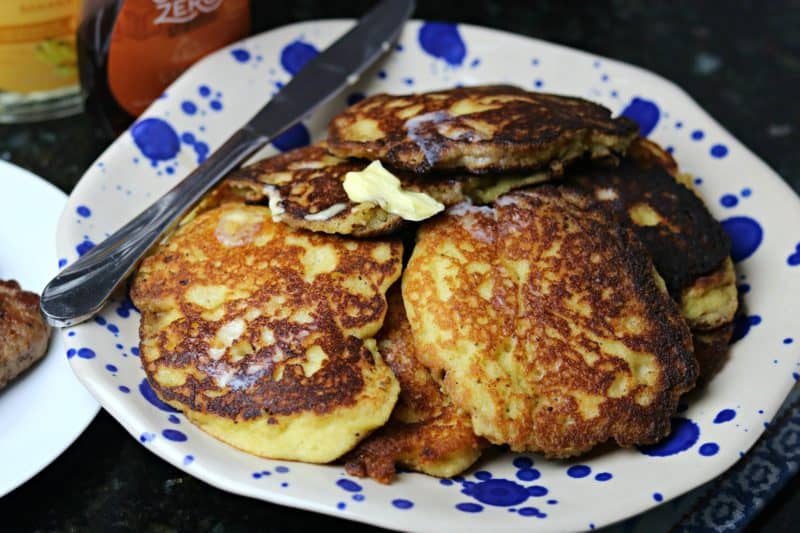 What are good Keto Pancake Toppings?
Sugar-free Whipped Cream
I like whipped cream on my pancakes. One way to make sugar-free whipped cream is to add 2 tbsp of Swerve, Confectioners, 1/2 cup of heavy whipping cream, and 1 tsp of vanilla extract to a stand mixer and blend until you get the fluffy texture you desire. This takes less than 5 minutes.
ChocZero Honest Syrup
There are a ton of ChocZero flavors that taste awesome on Keto Pancakes like Banana and Peach! Right now, I'm loving Pumpkin Pie Honest Syrup. I love these because they have 1g net carb per serving.
If you want to try ChocZero or want a discount code, then use DRDAVINAHS at checkout to save 10%.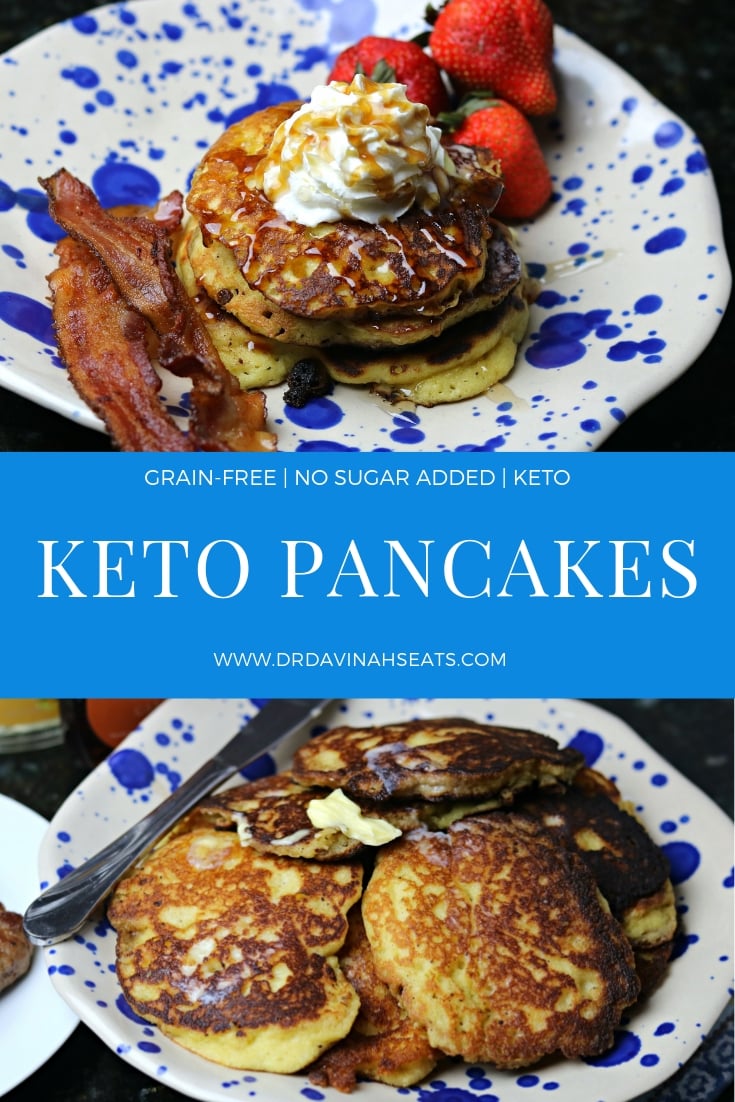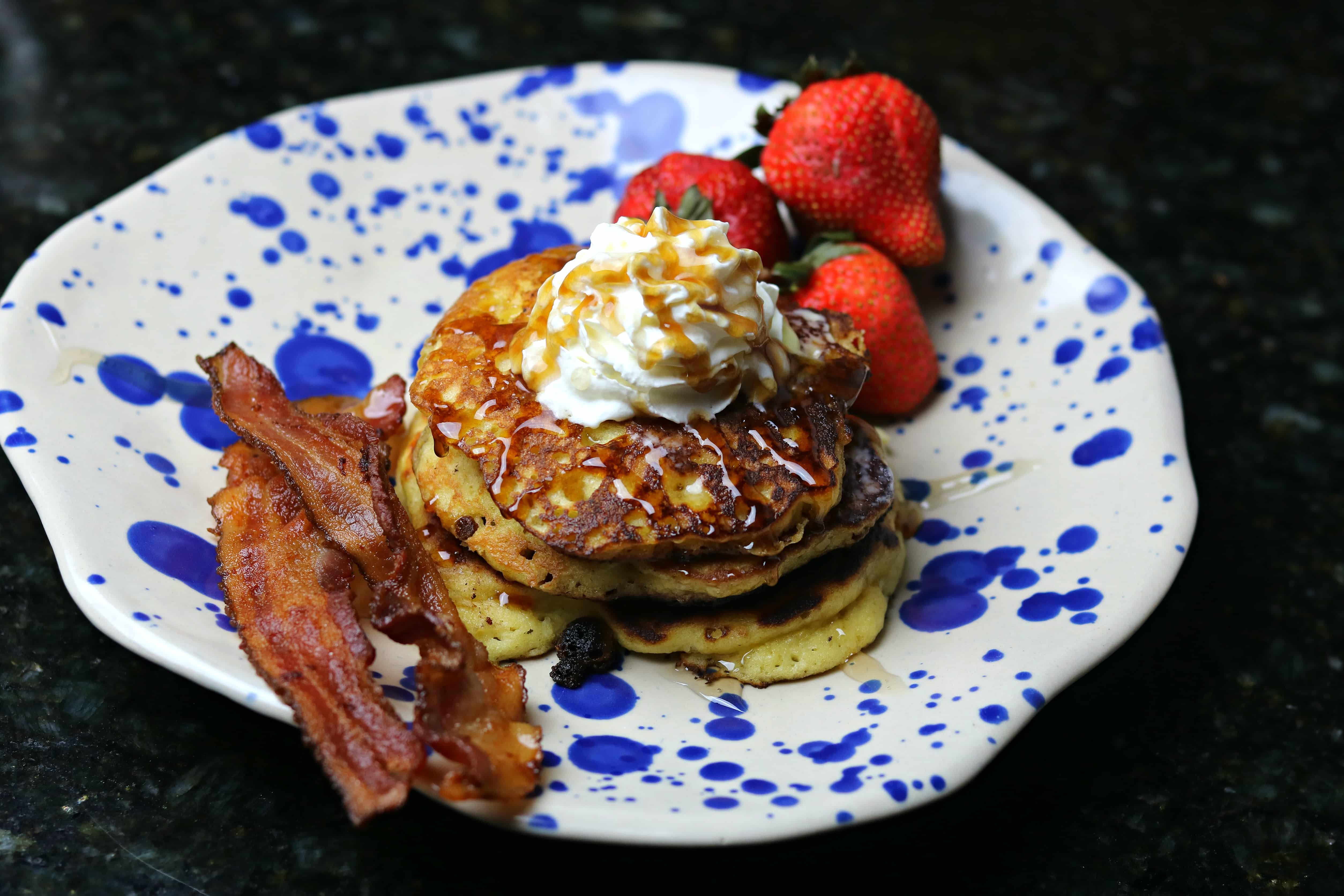 Instructions
In a small bowl, mix the dry ingredients (almond flour, salt, baking powder, and Swerve)

In a larger bowl (enough to hold the complete batter), whisk the wet ingredients (almond milk, eggs, Choc Zero Syrup and butter)

Pour the dry ingredients into the wet and use a baking spatula to incorporate

Heat a large skillet to medium-low heat

Melt 1 tbsp of butter and add pancake batter (a little less than 1/4 cup per pancake). You know it's time to flip them when you start to see the bubbles (like normal pancakes)
Recipe Nutrition Facts
Nutrition Facts
Keto Pancakes
Amount Per Serving
Calories 308
Calories from Fat 234
% Daily Value*
Total Fat 26g 40%
Cholesterol 138mg 46%
Sodium 267mg 11%
Potassium 348mg 10%
Total Carbohydrates 12g 4%
Protein 11g 22%
* Percent Daily Values are based on a 2000 calorie diet.
Did you make this recipe?
Use #DrDavinahS when posting your photo of this dish, and follow @DrDavinahS on Instagram