This post may contain affiliate links to products I use and highly recommend. You can read my full disclosure .
Disclosure: This post is sponsored by iHerb and contains affiliate and discount links. All of the content here was written by me and are my honest thoughts and opinions. Sponsorships help me to keep the content, including the recipes that I share weekly, absolutely free.
When starting out on the ketogenic, or low-carb, high fat, moderate protein diet, one of the initial things that you might notice is that there are a TON of supplements to choose from. If you were like me, you're not quite sure which ones are needed, how to even use them or whether you should be spending $50+ for things that you may or may not like. For this post, I'm partnering with iHerb (an online retailer that sells a wide range of natural products) to share seven effective and affordable keto supplements from the Nature's Way brand. I'm happy to be teaming up with iHerb because they have:
Over 400 Nature's Way products – allowing me to get all of my faves in one spot
An amazing loyalty program – you earn a 10% Loyalty Rewards credit that gets automatically applied to future purchases
Great customer service – 24/7 representatives to help answer questions about my product choices and orders
This post outlines seven effective, yet affordable Nature's Way products that support me on my keto journey, but also why I use them. Even though I'm only including these seven products, iHerb has over 400 Nature's Way products that can be shipped to over 160 countries. You can click here to explore the full line of Nature's Way products at iHerb.
#1 Alive, Women's Max Potency
When following any way of eating, one of the most important supplements that you can take is a multi-vitamin because it's nearly impossible to get all of your nutrients from food. Considering that I do intermittent fasting and that sometimes I just have one meal per day, having a multivitamin is even more important. I'm a bit sensitive to multi-vitamins (when I take them in the morning, I feel sick throughout the day) so I prefer to take multi-vitamins right before bed. One thing that I really love about Alive is that in addition to the typical nutrients in a multivitamin, Alive includes a blend of fruits and veggies! This multi-vitamin also has no sugar added (check your labels, my old vitamins had 3g of added sugar per serving!)
#2 Echinacea Goldenseal
Echinacea Goldenseal was one of the first supplements that I'd ever tried. My mother was adamant that it prevented her from having a cold for 3 years so when I started suffering from indoor allergies as an adult, I turned to Echinacea Goldenseal as an all-natural way to build my immune system. Since starting keto and incorporating Echinacea Goldenseal, I've gone from taking allergy medications daily to once (if at all) every few months. I will say though that this stuff tastes terribly (there's no way around the taste) so I typically "chase" this with a large cup of water or a keto-friendly drink mix like my electrolytes.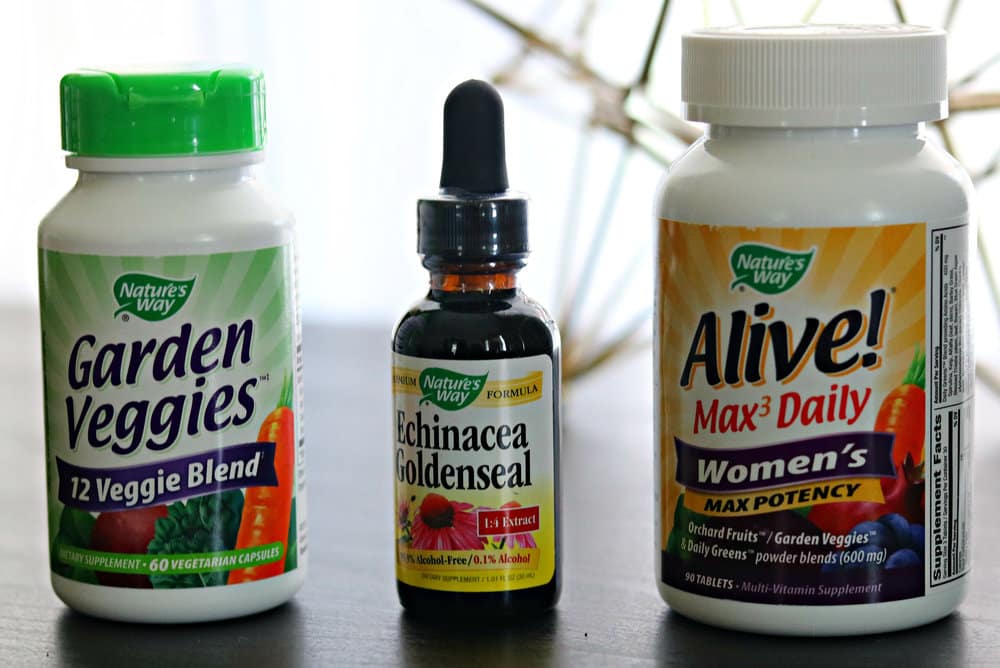 #3 Garden Veggies
Following a low-carb, high fat diet can sometimes mean that you don't get enough veggies. One way that I ensure that I get my greens (without forcing myself to eat when I'm not hungry) is by supplementing with Garden Veggies. Each capsule is packed with things like broccoli, spinach, cabbage, and my fave, cauliflower! I tend to have this mid-day and mid-afternoon since the recommended serving is 2 capsules daily with meals.
#4 & #5: 100% MCT Oil Liquid & Softgels
As I've mentioned on this blog before, MCTs or medium chain triglycerides are some of the healthiest fats that anyone can have. Made from coconuts, they assist in giving me energy, suppressing my appetite, but also in helping me reach ketosis. In fact, when I was struggling to get into ketosis during the first weeks of my keto journey, I swapped the butter in my butter coffee with MCT oil and noticed that my ketone readings doubled after a few days. I like to buy my MCTs in the capsule and liquid forms. I'll explain why right below.
What's the difference between the MCT Oil softgels and the liquid?
As mentioned above, the MCT Oil softgels are perfect for doing keto on-the-go, preventing me from lugging around oils when I'm out or on vacation. The MCT Oil Liquid allows me to get more healthy fats per serving. Plus, I use it in cooking and when preparing my butter coffee. One feature that might be a small thing for some people, but it's for me is that Nature's Way MCT Oil Liquid also has a no-spill kind of function for the cap. This is important because most other brands that I've tried have pouring spouts – no matter how hard I try, these spouts always result in a liquid puddle under the bottle during storage. Considering that MCT Oil Liquid is more expensive than say a bottle of coconut oil, being able to use most of the oil instead of it leaking from the bottle is important.
#6 Organic Extra Virgin Coconut Oil
I first started using Nature's Way Coconut Oil a few years ago when I wanted to have a natural moisturizer for my hair and skin. It wasn't until years later, that I tried to use coconut oil as a healthy fat in cooking and baking. I like using it because this is largely flavorless.
Do I need coconut oil and MCT Oil?
Yes. One of the most common keto misconceptions is that coconut oil and MCT Oil are the same. The thought is that because they are both made from coconuts that they can be used interchangeably. This is not the case. Specifically, there are four types of MCTs. MCT Oil is made using MCTs that produce ketones (you need ketones to reach ketosis). Coconut oil, on the other hand, is made mostly of lauric acid, a fatty acid that some argue should not even be considered an MCT. Since our bodies absorb MCT oil and coconut oil differently, we should stick to using MCT oil to stay in ketosis and use coconut oil as a healthy fat for cooking.
#7 Nature's Way, Psyllium Husks
FIBER! When starting keto, one thing you might notice is that you can get a bit constipated. This is caused in part because people (like me) get so excited about eating bacon and fat that they don't get enough vegetables. Beyond that, there's also only so many vegetables one can get in so few meals per day (keto makes you pretty full). One way that I get more fiber is by using Psyllium Husks. The 6 capsules per day is just enough to keep me regular. If you are interested in doing a bit of a monthly colon cleanse, I'd recommend getting this in powdered form and clearing your schedule!
Customers can get a discount off their Nature's Way order and New Customers can get an additional $5 off their minimum $40 order by clicking here!