These Keto Steak Recipes are sure to please your family and picky eaters. With everything from garlic butter steak bites to Philly Cheesesteak Stuffed Peppers, you'll find low-carb steak dinner ideas that you can cook using the oven, stove-top, grill, and air fryer. Make these if you're looking to add a bit of variety to your menu. Enjoy these with my collection of the keto sides for steak.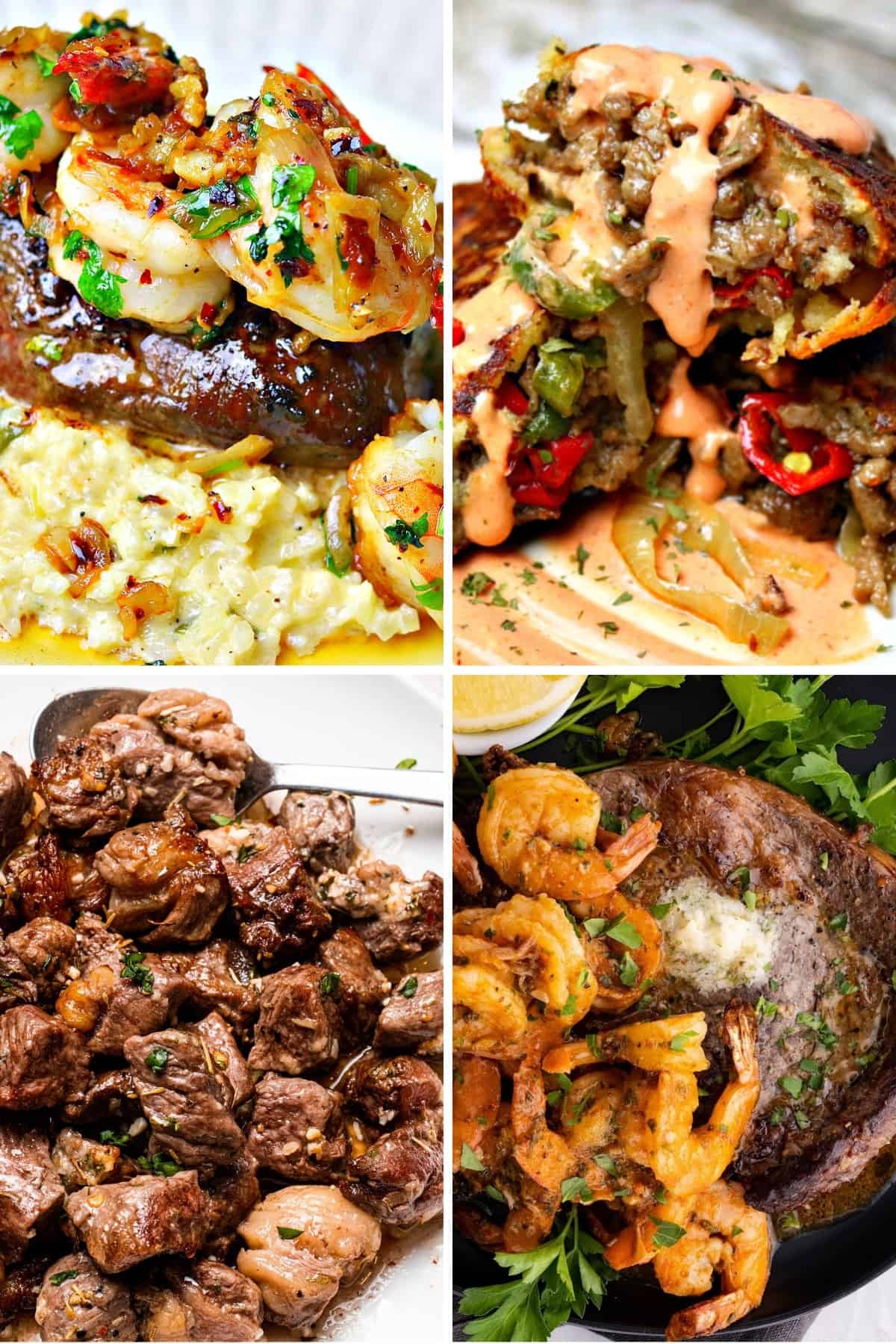 Why Share Keto Steak Recipes?
Steak is a great main protein option that can work for everything from everyday meals to romantic date night dinners.
Things like my garlic butter steak bites and stuffed cheesesteak peppers even work for picky kids.
But, people on a "diet" will often default to chicken or fish. While those are obviously healthy options, don't discount red meat!
These keto steak recipes and low-carb steak dinner ideas will give you lots of variety to add more steak to your menu.
Low Carb Steak Dinner Side Dishes
Since writing this post, I've created a collection of the best keto side dishes for steak. It includes options to help you use some of the recipes below to make a complete steakhouse meal like my creamed spinach and mashed cauliflower.
It also features some simpler options like my then these Sautéed Green Beans.
Keto Steak Recipes
This easy recipe just takes 15 minutes to cook. I use a Greek yogurt marinade to help flavor the meat and keep it tender! This pairs so well with my cast iron shrimp and chimichurri sauce.
Not just steak, add shrimp! You'd pay big bucks at a restaurant for this one! I love making this for a keto date night in.
Want a low-carb steak dinner while skipping the pots and pans? This steak dinner is whipped up easily in an air fryer.
These are one of my favorite keto steak recipes. The juicy chunks of steak can be a quick high protein, low-carb snack or the main part of a meal like a keto burrito bowl.
Utilizing your air fryer is a perfect way to make steak. It's quick and easy once you get the hang of it.
Ranch Seasoning includes many herbs commonly paired with steak. So, it's the perfect way to season up this beef top sirloin without too much work.
In case I haven't made this clear, I love a good cheesesteak! I don't miss the bread at all when I take my favorite classic flavors and stuff them into bell pepper halves.
Sous vide is great for steak. You can cook your steak to your desired internal temperature without keeping an eye on it, and then when you're ready to serve you simply sear the outside!
Cheesesteak! I love it so much that I had to figure out a way to get it into a Keto-friendly "bread pocket" just so I could enjoy this classic recipe. Even though I used shaved sirloin, you could also make this with ground beef.
Take your salad up a notch when you add perfectly blackened steak! Warm or cold, steak is a great compliment to crisp veggies and smooth avocado.
Mongolian beef is a Chinese-American dish that has all of the best Asian flavors. This keto steak recipe takes minutes to make and tastes amazing!
Sheet pan meals are all the rage and for good reason. I love being able to add everything to one pan. Not only is it an easy clean-up, but it also makes sure everything is super flavorful.
Look at this one! It's just like the crusted steaks at top-rated steakhouses, but with the ingredient quality you choose.
This Marinated Flank Steak with Roasted Mushrooms, Tomatoes, and Zucchini is one of my favorite, easy steak dinner ideas! The bright marinade has a summer feel but is good all year long.
Tender filet mignon with garlic parmesan butter, zesty tomato sauce, and sautéed vegetables make steak pizzaiola feel new again in this great low-carb steak recipe.
Here's a fool-proof oven method for the perfect sirloin steak. If you are unfamiliar with steak and want to make sure you cook it right, I'd start here.
This mushroom sauce is to die for! Creamy and delicious, and still on plan for your Keto lifestyle! Would be amazing with mashed cauliflower.
Meat on skewers is the perfect tailgate food or keto appetizer. You can do all the fussy prep work ahead of time, and then grill while you chat with your guests.
The Instant Pot lets you get that takeout flavor you're missing in the same amount of time. You won't regret making this Keto beef and broccoli at home.
You can't go wrong with 10-minute meal prep.
These are the perfect keto appetizer for game night, and there are two dipping sauce options included!
Mix things up this Taco Tuesday with these delicious and keto-friendly Flank Steak Fajitas! They're super easy to make and oh-so-delicious!
FAQs