If you've chosen a keto, low-carb, or grain-free path, you know that regular flour and grains no longer serve you. However, a lack of enough or equally great alternatives can be a huge setback.
So, is it possible to recreate your favorite dishes without the extra carbs in wheat flour or corn? The answer is yes, and here's how: In my journey towards healthier eating, I discovered almond flour which effortlessly replaces regular flour in most dishes. Almonds are low-carb, gluten-free, and nutrient-packed.
In this post, I'll share the top keto almond flour recipes from across the internet. Let's dive in: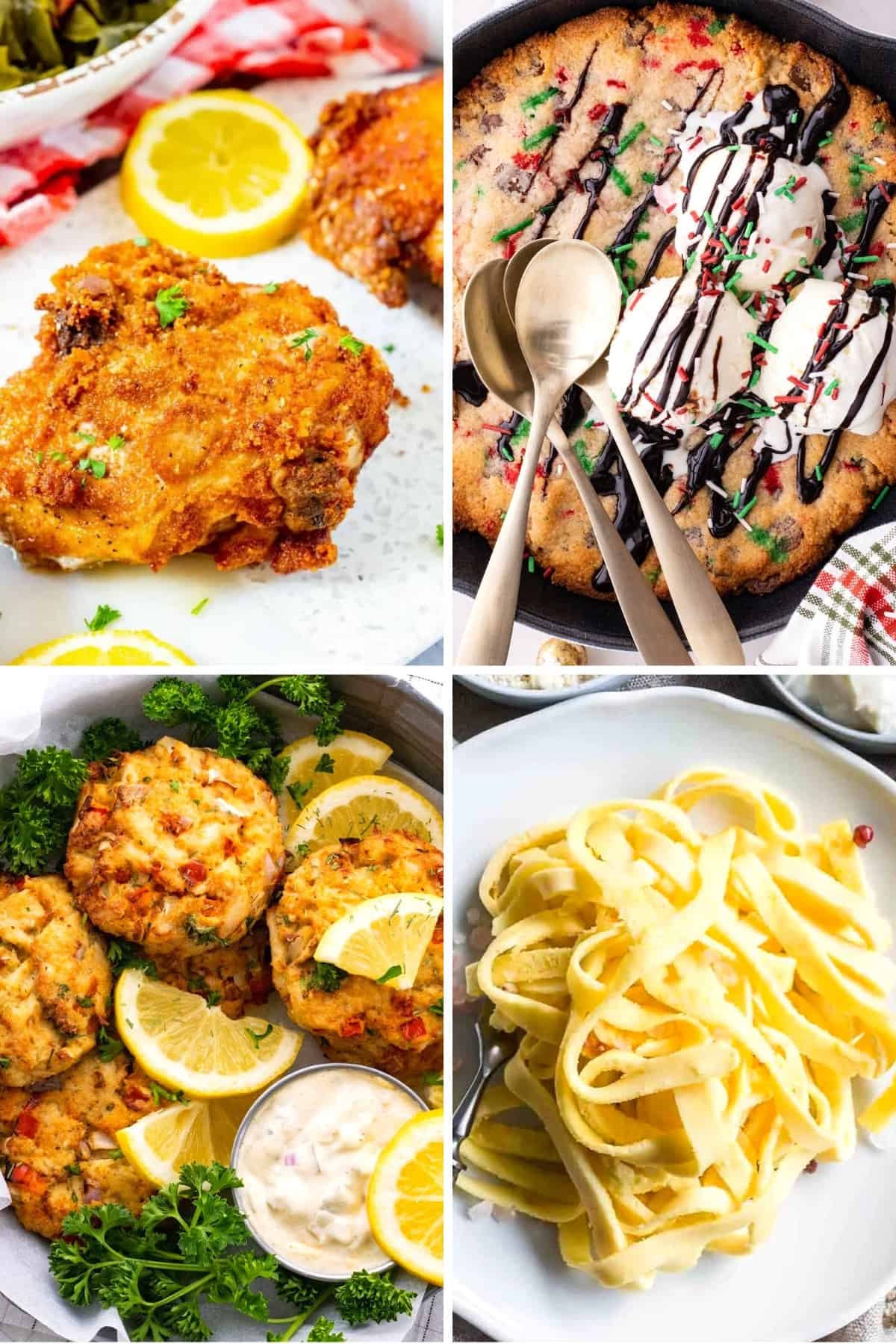 Breakfast Recipes Using Almond Flour
The following are simple breakfast recipes using almond flour:
My love for waffles led me to this keto-friendly recipe. This requires about 9 ingredients and takes less than 20 minutes to prepare.
If you're looking for a low-carb alternative to the traditional blueberry muffins, try switching wheat flour with almond flour and tone down the net carbs to 5g per muffin.
Bagels are amazing, but the regular ones are loaded with carbs. This recipe uses keto fathead dough to achieve 5g net carbs per bagel in about 15 minutes.
Cauliflower hash browns are great substitutes for potato hash browns. This dish is low-carb and comes together in 15 minutes. Almond flour is used to hold the ingredients together.
I needed almond flour recipes to satisfy my pancake cravings the keto way. It takes 20 minutes to make this dish, and a single serving has 5g net carbs.
If you're looking for a flavorful low-carb porridge recipe, try this. You'll need about 7 minutes to prepare it, and one serving has only 6g net carbs.
This is basically an almond flour crust topped with low-carb vegetables, cheese, meats, eggs, and spices. The result is a keto-friendly riot of flavors to brighten up your mornings.
Almond Flour Snacks & Side Dishes
It's possible to enjoy your cornbread minus the actual corn. This dish is made from almond flour and 5 other ingredients. You need about 30 minutes to get it done.
Replace the high-carb cornmeal in traditional grits with almond flour. You need 5 ingredients and 10 minutes to make this side dish. A single serving has 3g net carbs.
This dish is a keto-friendly variation of the classic Domino's bread bites. It's made from low-carb fathead dough with almond flour as the main ingredient.
I love cornbread, but the classic dish is nothing near keto. This low-carb recipe uses almond flour and omits sugar. One serving only adds 4g net carbs to your meal. I love this anytime, but especially on Thanksgiving.
This is one of the simplest snack recipes using almond flour. Each of these has about 2g net carbs.
You only need 5 ingredients to make these yummy keto biscuits, and each contains 2.5g net carbs. The recipe is simple and customizable to suit your tastes and preferences.
This recipe is your go-to formula for keto crackers with 4g net carbs per serving. It takes two common ingredients to make these tasty and low-carb crackers.
Are you up for more keto creativity? If so, try this recipe. These crispy fries are made from almond and coconut flour and contain 3g net carbs per serving. What a perfect keto side for burgers!
Recipe Staples
These are some basics that you can use as almond flour replacements in various recipes:
These egg noodles are perfect replacements for regular pasta and only require 4 ingredients and 8 minutes to cook. Use them as the base for my Cajun Shrimp Alfredo, Shrimp Scampi or Air Fryer Frozen Shrimp & Broccoli.
This almond flour pie crust is made from 4 simple ingredients. It's a low-carb crust that works perfectly with savory and sweet dishes.
This is a healthy version of the classic soda bread which replaces regular flour with almond flour and currants with sugar-free cranberries.
Since I discovered this dough recipe, life has never been better. With about 8 ingredients, I can make keto fathead dough to use for my pizzas and bagels.
This recipe is super flexible making it a great holder for my keto meatballs, air fryer burgers, and air fryer brats!
Main Dishes
Over the last few years, I've created and recreated some of my favorite recipes using almond flour. Here are some of my best, as well as some others from my favorite food bloggers:
This recipe uses more crab and no breadcrumbs, the opposite of the traditional crab cake. Almond flour is used to hold it together.
Classic meatballs are loaded with carbs thanks to the breadcrumbs and added sugar. This keto recipe replaces high-carb breadcrumbs with low-carb almond flour and omits the sugar.
This is a fun twist on two of my favorite things. I love how it's loaded with toppings.
Fried chicken is a classic Southern dish that many aren't ready to give up. This keto recipe uses almond flour instead of breadcrumbs, and the taste is just as heavenly.
As a Philly native, these easily became one of my favorites to make. It uses fathead dough!
Desserts: Baking With Almond Flour
You can absolutely bake with almond flour, but it isn't a 1:1 substitute for regular flour. So, just be sure, you use a recipe that has been tested specifically with almond flour. Some of my favorite almond flour recipes for dessert are:
These brownies are low-carb and just as tasty as the traditional ones. They are made from almond flour, and keto sweeteners replace sugar.
Spice up your days with a keto skillet cookie. Almond flour makes this recipe grain-free, gluten-free and low-carb. A single serving has 4g net carbs.
These bars are flavorful and as keto-friendly as they can get. They are easy to make, no bake and require common pantry ingredients.
This recipe allows you to enjoy your favorite carrot cake without the extra sugar. The keto-friendly ingredients used lower the carbs from 70g+ to 7g net carbs per slice.
Are you looking for an easy lemon cake recipe to serve your keto goals? This is it. Keto lemon pound cake is sugar-free, grain-free, and low-carb.
I've always loved strawberry shortcakes. However, regular cakes are carb-loaded, so I found this perfect low-carb recipe to keep my taste buds entertained while serving my current health goals.
You know a sweet tooth is no excuse for compromise, but this recipe allows you to enjoy a sweet, sugar-free, and low-carb dessert. One cookie has 2g net carbs.
It takes about 15 minutes to make this keto cheesecake with only 1g net carbs per serving. Also, this is for you if you don't like baking.
If you love cupcakes and need a keto-friendly recipe, try this one. You only need a few common ingredients, and the cakes have 3g net carbs per serving.
This recipe produces a riot of flavors with three layers of different low-carb ingredients. Almonds and pumpkins take the lead in ensuring the results are tasty and keto-friendly.
You need 5 basic ingredients to make these gluten-free keto cookies, each of which contains only 1.5 net carbs.
FAQs
Take Away
Discovering the best recipes using almond flour requires practice and lots of creativity. You have to get out of your comfort zone to create and recreate until you find what works for you. Feel free to use my favorite recipe list as a stepping stone to finding your own path.