Easter, like so many of our holidays, is jam-packed with tempting, carb-loaded treats. This means that staying on track can present a bit of a challenge. If you're wondering what to make for Easter while on keto, then this is the Ultimate Keto Easter Recipes Guide for keto-friendly Easter breakfast, brunch, and dinner. It includes easy recipes like keto blueberry muffins, frittata, keto carrot cake, Keto Easter eggs, and sugar-free peeps!
I hope these delicious dishes will fill you with joy at Easter – and throughout the year!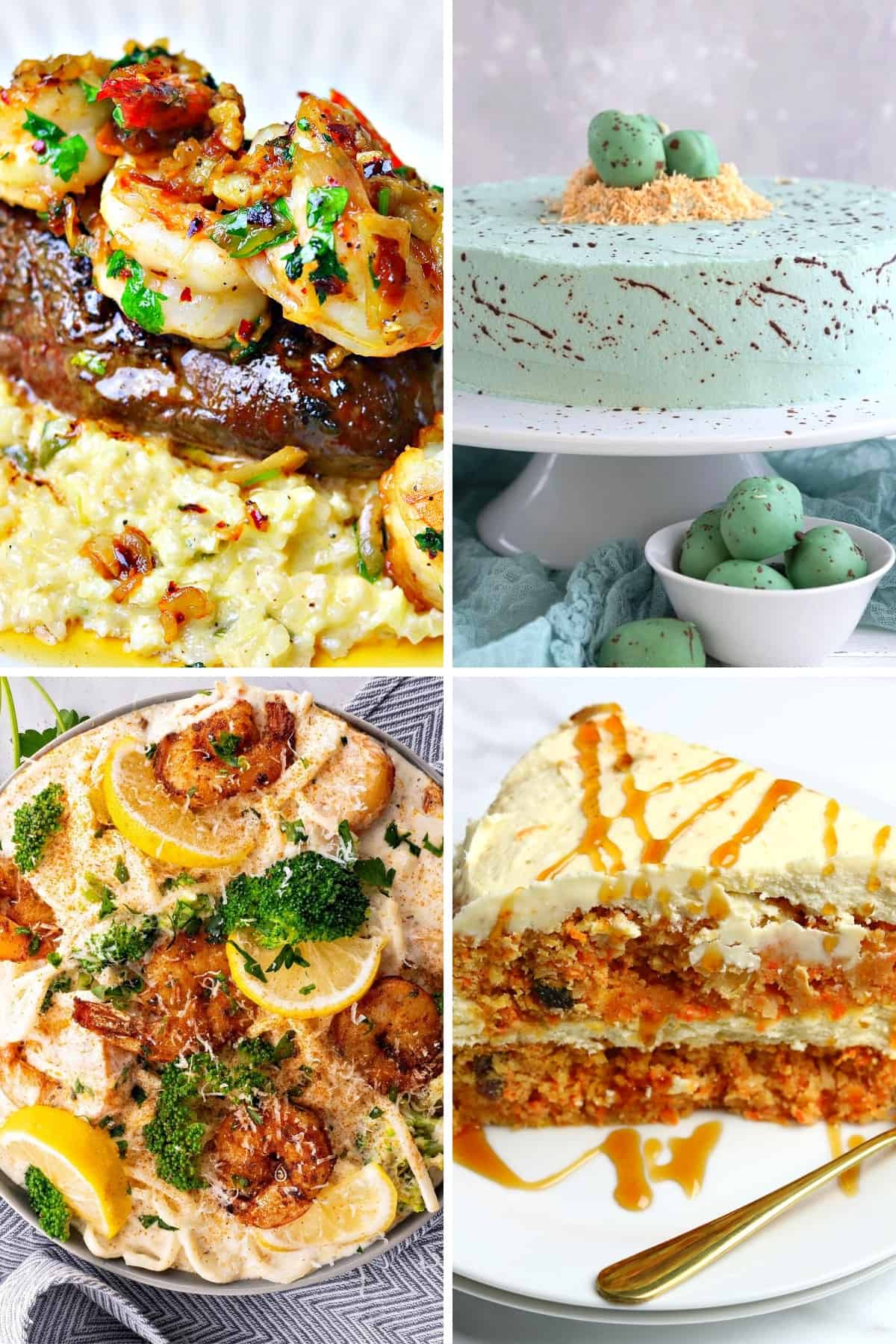 Low Carb Easter Brunch Recipes
Brunch is a special meal – which is why we often serve it for special occasions like Easter and Mother's Day.
Part breakfast and part dessert bar, brunch is famous for tempting us with many keto-unfriendly items. UNTIL NOW.
The following brunch recipes are keto-friendly and completely delicious. When you are smiling around mouthfuls of Chorizo Mexican Frittata or Cream Cheese Stuffed French Toast, there's no way you'll feel deprived!
Keto Easter Main Dish Dinner Recipes
A holiday like Easter is the perfect occasion for a huge holiday meal with friends and family. And, when you see the list of keto Easter dinner possibilities below, you'll see that there really is something in this list for every palate.
Whether you love a good pot roast, leg of lamb, or are a fan of seafood, these Easter dinner recipes will make your meal epic!
Low Carb Easter Appetizers & Side Dish Recipes
Appetizers and side dishes are often dangerous territories for those watching their carbs. But, with these, there's no need to worry. From the Easy Keto Parmesan Garlic Bread bites to the tasty cheese platter, there are all kinds of tasty options that will satisfy your cravings without blowing your diet!
Keto Easter Treats and Desserts
Easter is a holiday filled with all kinds of treats. From chocolate rabbits to sugary desserts, there are way too many temptations. This list of wonderful keto Easter dessert recipes will show you that you don't have to fall off your eating plan to enjoy a nice treat. From cheesecake to chocolate, you'll find all your favorites here!