If you checked out my recipe for Air Fryer Parmesan Garlic Chicken Wings, then you know that you can easily make crispy, chicken wings in an air fryer. Since I'm still experimenting with my air fryer, I decided to make these Air Fryer Buffalo Chicken Wings. These wings are one of my favorite proteins to make when entertaining a crowd and watching a football game. I included an easy to make Blue Cheese Dressing because Blue Cheese Dressing and Buffalo Wings make the perfect pair. Plus, I prefer to make my salad dressings at home.
This recipe makes about 14 Air Fryer Buffalo Chicken Wings and 1 cup of blue cheese dressing.
How do you make these Buffalo Wings in an oven?
If you don't have an air fryer or want to make more than 14 chicken wings, then I'd recommend that you make these in an oven. You can follow the steps as listed in the recipe. The only difference is that you will cook the wings in an oven on 425 degrees for 25 minutes per side.
A recipe note about salting:
I reduced the amount of salt in this recipe (compared to the Air Fryer Garlic Parmesan Wings) because I find that Buffalo Wing sauce is already pretty salty. If you want more salt, feel free to add another 1/4 tsp of salt to the wings after they are cooked. Remember, you can always add salt, but you can't take it away once a dish is over salted.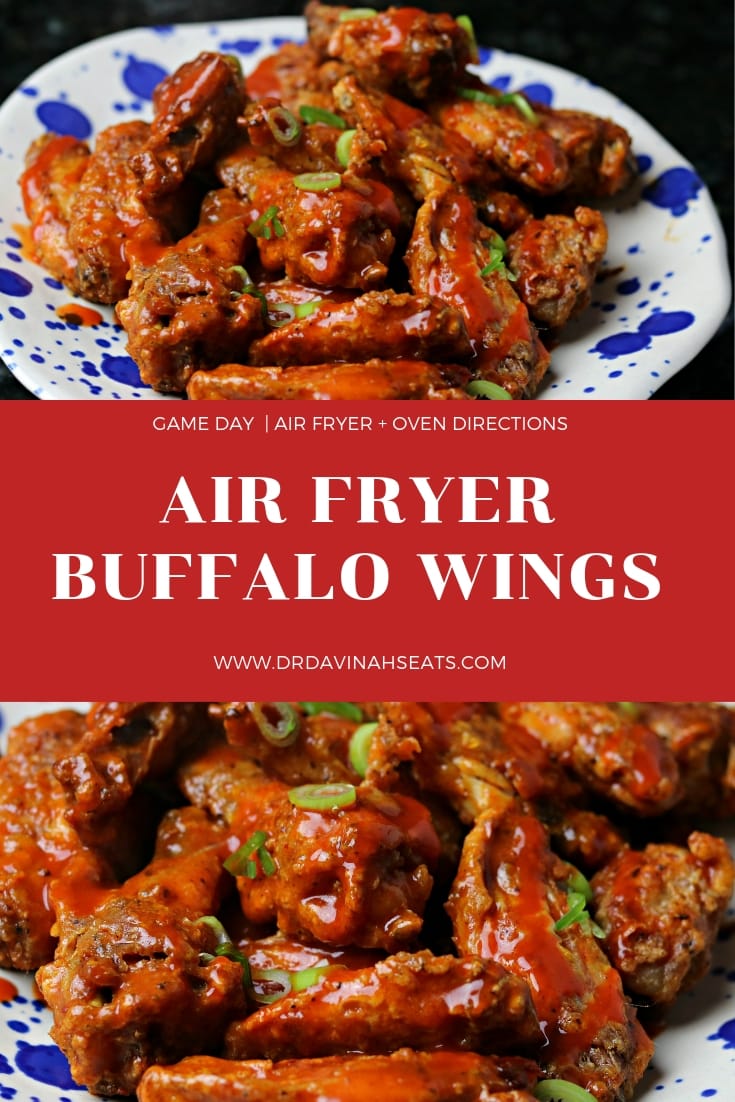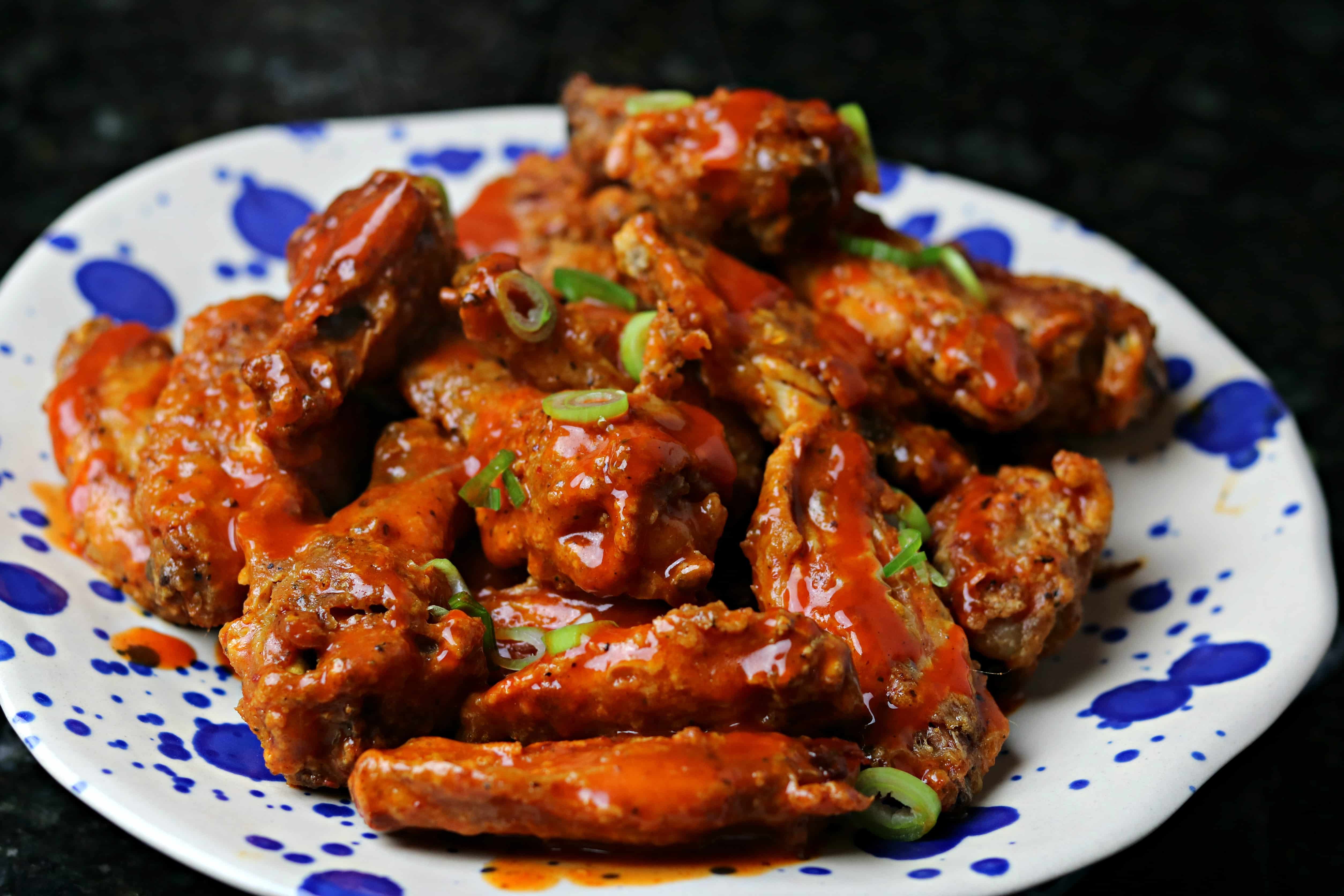 Ingredients
Buffalo Wing Sauce
1/2

cup

Franks Red Hot Wing Sauce

1

tbsp

salted butter

melted

1/4

tsp

about 2 turns on the grinder Trader Joes Smoked Ghost Pepper Chiles (optional)
Instructions
Remove the chicken wing parts from the refrigerator and pat dry (removing as much moisture as possible helps to have a crispy wing skin)

Mix the sea salt, black pepper, paprika, garlic powder, onion powder and baking powder in a small dish or ramekin

Sprinkle seasoning mixture on the wings and toss to coat

Place wings on a flat layer in the airfryer

Use the air-fryer programmed settings for chicken (400 degrees) and cook for 25-30 minutes. I set my timer 15 minutes, flipped the wings, then checked the wings at 5 minute intervals until the skin was crispy enough for me. Getting the wings crispy quickly requires you to flip them about halfway through.

Mix all of the ingredients for the Buffalo Wing sauce by stirring them in a small bowl with a fork (keep mixing until the melted butter is well incorporated)

Mix all of the ingredients for the blue cheese dressing by stirring them in a small bowl with a lid (this made enough dressing to dip the wings, have on my dinner salad, but also another day of salads for lunch)

Toss the wings in the Buffalo Sauce mixture and serve immediately with a side of Blue Cheese Dressing
Recipe Nutrition Facts
Nutrition Facts
Air Fryer Buffalo Wings w/ Homemade Blue Cheese Dressing
Amount Per Serving
Calories 640
Calories from Fat 513
% Daily Value*
Total Fat 57g 88%
Cholesterol 135mg 45%
Sodium 2388mg 100%
Potassium 633mg 18%
Total Carbohydrates 4g 1%
Protein 26g 52%
* Percent Daily Values are based on a 2000 calorie diet.
Did you make this recipe?
Use #DrDavinahS when posting your photo of this dish, and follow @DrDavinahS on Instagram