Holidays are about fun and food, but finding low-carb Father's day recipes can be a struggle if you or one of the dads in your life are on a low-carb diet. But, not to worry, I looked out for you and curated this list of delicious keto recipes for father's day. Whether you plan to celebrate Father's Day with a restaurant-quality meal or a cookout, there are options for you in this list!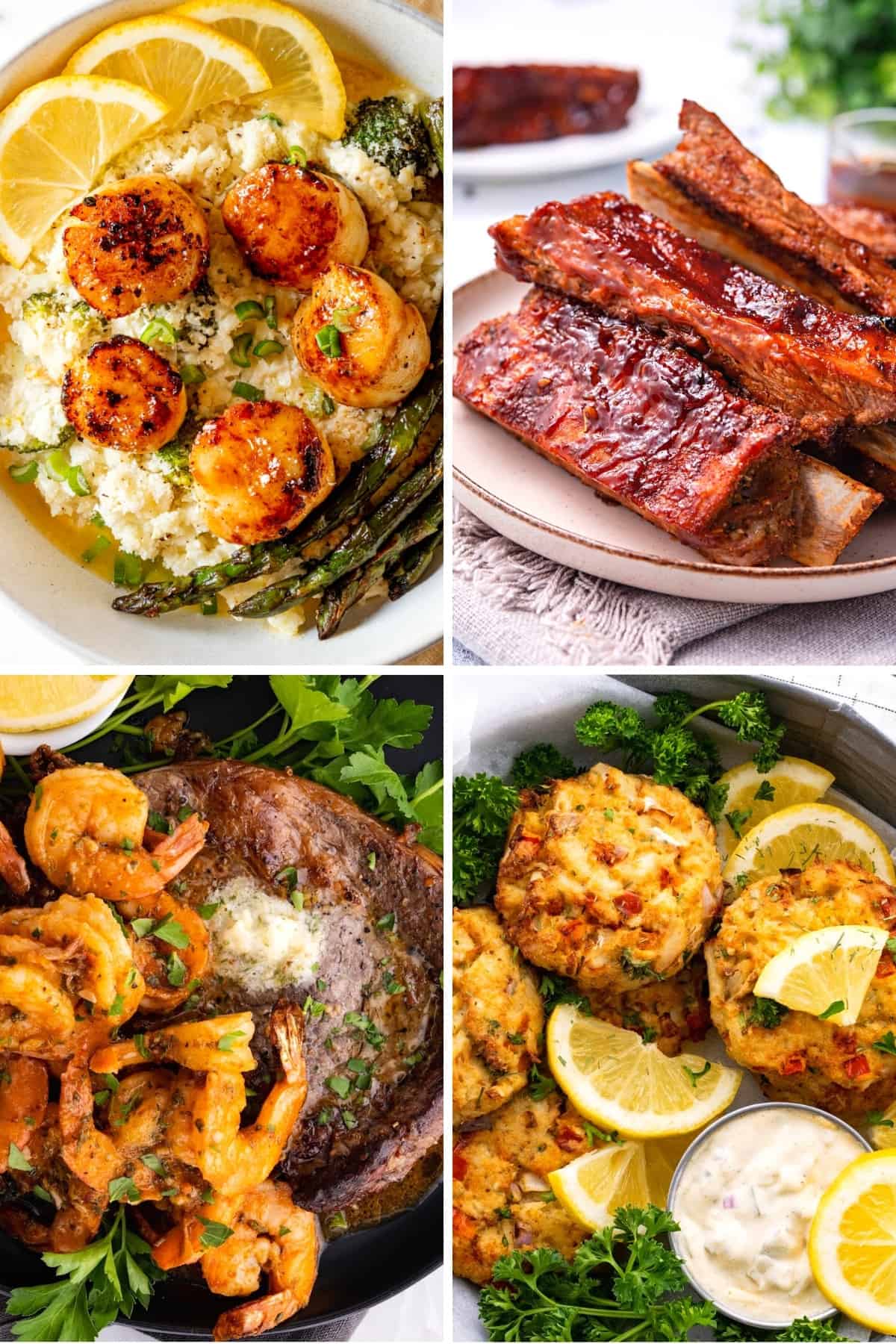 Why Share?
It's hard to follow a keto or low-carb diet during holidays because nobody wants to miss out on the food and fun.
However, if you keep trading your diet goals for fun food, you'll never get anything done. After going through the same struggles and finding my own balance, I'm happy to share my best dish options.
Do you want to make your father's day extra special minus the extra carbs? Below are sure-bet ideas for low-carb father's day meals.
Main Dishes for a Low-carb Father's Day Dinner
Family holiday dinners are special, so you can't spoil the moment with less than tasty food. Here are drool-worthy low-carb main dish ideas to consider:
This shrimp and steak option will leave everyone asking for more. It takes only a few ingredients and 15 minutes to make in a dual zone air fryer (regular air fryer instructions too!).
Consider this dish if you're looking for low-carb father's day recipes for your best comfort foods. It comes together in just 30 minutes.
You only need 15 minutes and 4 ingredients to make this one. It's easy to prepare, and the result is worth every bite.
Do you want to enjoy Southern shrimp & grits the keto way? This recipe is your sure bet. Use cauliflower grits or keto grits instead of corn meal grits, and have the time of your lives.
This flavor-packed surf and turf will make your father's day dinner memorable while keeping the carbs low. This features seared steak and keto shrimp scampi!
The keto BBQ dry rub and sauce are the secret ingredients in this recipe. You'll enjoy your BBQ ribs minus the extra carbs.
You need about 30 minutes to prep and make this delicious low-carb father's day casserole. Enjoy this as is or with my air fryer spaghetti squash.
Nothing makes holidays special like a juicy roast prepared with love. This flavorful dish requires only 5 ingredients and makes all the difference at the dinner table. I love using the drippings to make keto gravy!
If you love pork and are you looking for quick and easy ways to prepare it for father's day? This low-carb pulled pork recipe is your fix.
It takes a handful of simple ingredients and less than 10 minutes to cook this salmon dish in an air fryer. It's tasty and low-carb.
These garlicky chicken thighs are tender, juicy, and crispy. They take less than 30 minutes to cook, and every bite is worth it.
You don't need regular flour or breadcrumbs to make your favorite crab cakes In this recipe. Almond flour comes in handy, and the result is amazing.
If you're looking for exclusive yet simple keto recipes for father's day, this one is worth a shot. It takes about 20 minutes and a handful of ingredients.
It's hard to let go of meatballs, but the traditional breading doesn't serve low-carb dieters. My recipe replaces breadcrumbs with almond flour to make a tasty dish with fewer carbs.
This is your go-to recipe if you have less than 30 minutes to impress your loved ones on father's Day. The juicy dish requires a few simple ingredients.
This one-pot dish comes together in about 20 minutes and requires 6 ingredients. It's easy to make, low-carb, and ridiculously delicious.
Do you need simple low-carb father's day recipes? This Korean dish will make the big day special without the extra carbs.
It takes about 10 minutes and 5 simple ingredients to make this mouth-watering, low-carb main dish.
Shrimps are versatile, allowing you to make various easy dishes. These shrimp foil packets come together in less than 15 minutes. Plus, you can make them on the grill!
This easy recipe is ready in less than an hour and features my keto bbq sauce recipe and homemade bbq seasoning.
Impress dad with this 10-minute main dish! These air fryer lobster tails would pair perfectly with my keto mac and cheese.
Keto & Low Carb Father's Day Side Dishes
Your low-carb father's day meals won't be complete without equally great and befitting side dishes. Below are some low-carb side dish ideas:
This keto-friendly recipe allows you to enjoy your risotto minus the extra carbs in the regular dish. Cauliflower rice is a perfect replacement for arborio rice.
Loaded cauliflower will sort your potato cravings in a low-carb and keto-friendly way. This recipe replaces potatoes while retaining the bacon, cheese, and sour cream.
Mac and cheese is a favorite to many, but the traditional dish isn't low-carb. This keto recipe uses cauliflower instead of carb-loaded noodles.
A single serving for this dish only has 5g of net carbs. It'll make a perfect replacement for mashed potatoes to pair with most of your favorite meat dishes.
Do you need a low-carb potato salad substitute without cauliflower? This dish uses radishes, and one serving contains just 6g of net carbs.
This colorful low-carb vegetable mix is easy to make and comes together in less than 5 minutes. It's sugar-free, making it perfect for low-carb or keto dieters.
You want cornbread for father's Day, but corn is a no-go zone. If this is your dilemma, try this 30-minutes almond flour version. It's so good that I used it to make a low-carb version of my grandmother's cornbread stuffing.
Green beans are low carb and perfect alternatives to french fries. This dish requires about 5 ingredients and comes together in less than 20 minutes.
Creamed spinach is a common restaurant side but is usually high-carb, thanks to cornstarch and whole milk. This keto version omits the carb-loaded ingredients to make a keto-friendly side.
This asparagus side dish requires 4 ingredients and takes about 10 minutes to cook. It's low-carb and easy to make.
Key Takeaway
Holidays like father's day should be fun, and good food makes a big part of that. Don't bore your taste buds just because you're cutting carbs. You can try many enjoyable low-carb father's day recipes, starting with the ones given here.