Do you find it hard to stick to a low-carb diet during holidays like Mother's Day? You're not alone. Most of us struggle, but it gets easier if you actually enjoy the keto dishes. If you or your mom want to stick to a low-carb diet, I have compiled a list of my favorite low-carb Mother's Day recipes for the whole family to enjoy. You'll find keto Mother's Day recipe ideas for breakfast, brunch, dessert, drinks, and dinner.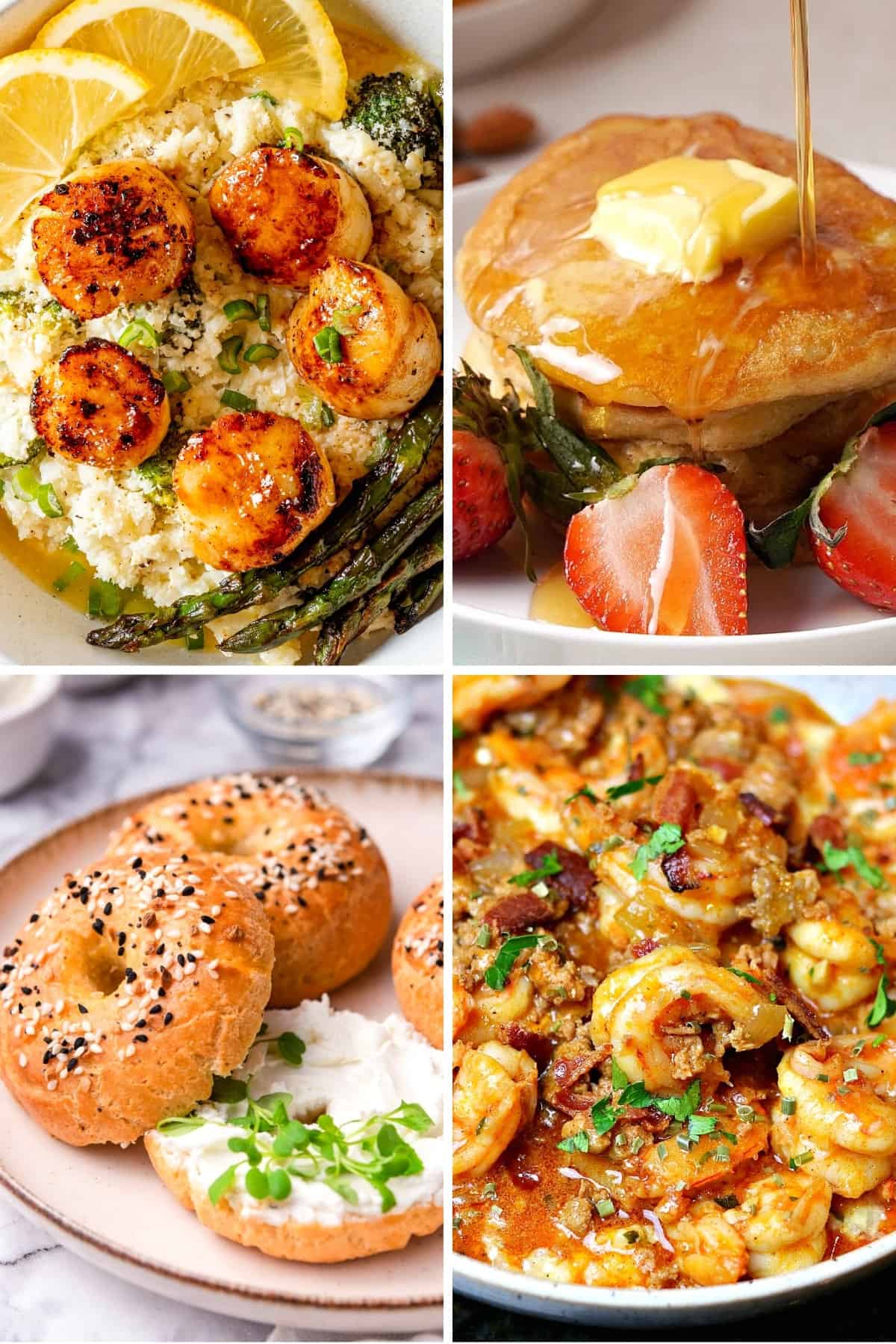 Why Share?
I know how challenging it is to stick to a low-carb diet during special occasions, but it's possible. I'm sharing some low-carb Mother's Day meals ideas you may want to try.
So, are you ready and willing to have a great keto Mother's Day? Let's explore some delicious, low-carb food options:
Mother's Day Breakfast & Brunch Recipes
Try the following keto recipes for Mother's Day breakfast and decide what works for you:
These pancakes are fluffy and delicious, with only 5g net carbs per serving. Treat your loved ones to a simple keto mother's day breakfast option.
This is one of my favorite breakfast recipes. It's simple but loaded with goodness. The bacon will be done in about 8 minutes. Perfect for those who don't eat pork.
This dish perfectly replaces a regular french toast. Use a keto sugar replacement to maintain the sweetness. A single serving has 11g net carbs.
Low-carb bagels are as tasty as ever, with keto fathead dough and keto-friendly toppings replacing the usual ingredients. This one takes 15 minutes to make.
This super easy brunch includes my air fryer fried chicken and almond flour waffles. If you don't have an air fryer you can make crispy baked chicken wings.
Bacon is king in staple breakfast options. Use this air fryer recipe to make your bacon faster and more crispy.
Does your mother love waffles but is trying to eat healthier? Treat her to these low-carb almond flour waffles.
Thanks to the keto-friendly almond flour and dark chocolate, these breakfast treats are flavorful, tender, and great for your keto goals.
Do you want to make your mother feel as special as she is? Start her big day with this keto crepe.
If you need legit low-carb Mother's Day recipes for breakfast, these muffins are worth a shot. They'll satisfy your muffin cravings, and each muffin only has 5g net carbs.
Low Carb Mother's Day Dinner Ideas
Culminate the big day with any of these low carb Mother's Day meals:
This risotto recipe is the real deal minus the extra carbs. It takes about 30 minutes to make and is easy to prepare at home.
Treat your mother and the rest of you to a steak dinner. The meat takes less than 15 minutes to cook in the air fryer. I top this with my easy herb garlic butter.
No need to have mom skip out on shrimp and grits on her special day. Just switch regular grits with cauliflower rice and make this super flavorful main dish.
Having steak and shrimp in one dish is extra yumminess. Pair it up with my cauliflower rice risotto to give the mom in your life a restaurant quality meal.
This keto cajun shrimp dish is what you need for a perfect mother's day dinner. It is easy to make and comes together in about 30 minutes. I swap the pasta for hearts of palm noodles, but you could also use my air fryer spaghetti squash.
I have a special liking for pot roasts, and this recipe is one of my favorites. It requires 5 ingredients, and the result is as juicy as it can get. You can use the pan drippings to make keto gravy and pair it with my cauliflower mash or cauliflower rice pilaf.
If you're looking for a quick and easy dinner fix, try this one. It will be ready in less than 30 minutes and only requires 5 ingredients.
Crab cakes are awesome, but the breading can make them not great for keto. This keto crab cake recipe uses a small amount of almond flour and takes about 25 minutes.
Meatballs are succulent but carb-loaded. Replace breadcrumbs with almond flour and enjoy the dish guiltlessly.
If you need low-carb mother's day recipes for chicken thighs, this might as well become your favorite. It's simple, delicious, and uses keto-friendly ingredients.
With about 7 ingredients and in less than 20 minutes, make this creamy chicken dish for a special mother's day dinner.
Need a last minute low-carb Mother's Day meal? If you have 15 minutes to spare before dinner, you can fix this quick, main dish in an air fryer. You don't need to thaw the frozen shrimp and broccoli.
Keto Mother's Day Desserts & Cakes
No need to miss out on desserts. The following keto recipes for mother's day will give your taste buds all the sweet flavor minus the added sugar.
A chocolate and cookie combo sounds like everything but keto. However, this recipe uses low-carb almond and coconut flour. Regular sugar is replaced with keto sweeteners.
If you enjoy lemon cakes, this low-carb version is perfect for mother's day dessert. It's quick and easy to make.
Are you looking for a perfect keto cheesecake recipe to serve the whole family? Try this flavor-packed low-carb dessert to keep the celebrations going.
One bite into this strawberry treat will make your mother question if this is low-carb. This dessert is beyond delightful. It's quick to make and uses simple ingredients.
Carrot cakes are delicious but are mostly loaded with carbs. This recipe allows you to enjoy an equally tasty carrot cake with free carbs. One slice has 7g net carbs.
It will take you less than 10 minutes to make this low-carb cheesecake mousse with no added sugar. Top it with keto whipped cream or berries!
Low Carb Mother's Day Drinks
Drinks are refreshing, but most regular ones are nothing near keto. Below are some exciting low-carb mother's day recipes you can try.
This is an easy drink you can fix in less than 10 minutes to replace the carb-loaded classic lemonade drink. It only requires 4 ingredients.
The feeling as that ice-cold drink goes down your throat is heavenly. This keto recipe serves pleasure with no guilt with only 7 ingredients and in less than 15 minutes.
Milkshakes are amazing, but it's better if you can have them low-carb. Make this keto shake in about 5 minutes using simple ingredients.
You only need 4 ingredients to make this tasty and keto-friendly drink. Enjoy the benefits of matcha in this tasty package.
Use this easy and quick recipe to replace sugar-loaded regular margaritas. You'll satisfy your margarita craving the keto way.
This low-carb, fruity drink is what you need to keep the happy mother's day mood going. It's a mixture of red wine and assorted fresh fruits.
This is a fun low carb way to have mimosas without all the carbs from orange juice.
The low-carb Mother's Day recipes suggested here are great if you're starting your keto journey and need to experiment with various recipes. You can modify the dishes and settle on what works best for you.
FAQs
More Recipe Collections