This post may contain affiliate links to products I use and highly recommend. You can read my full disclosure here.
Click below to share this!
In the mood for a keto chicken dinner? There are so many options and low carb chicken recipes to choose from, but I've collected 12 DELICIOUS and unique keto chicken dinner recipes that are sure to fill that craving! From Italian flavors, to grilled, to chicken curry, each of these recipes is low carb and keto friendly. You're sure to LOVE one, or maybe even all! These dishes are perfect if you're looking for easy meals or simply want to add a twist to your meal rotation. I include some possible side dishes and a few options if you're mostly wanting to eat chicken wings!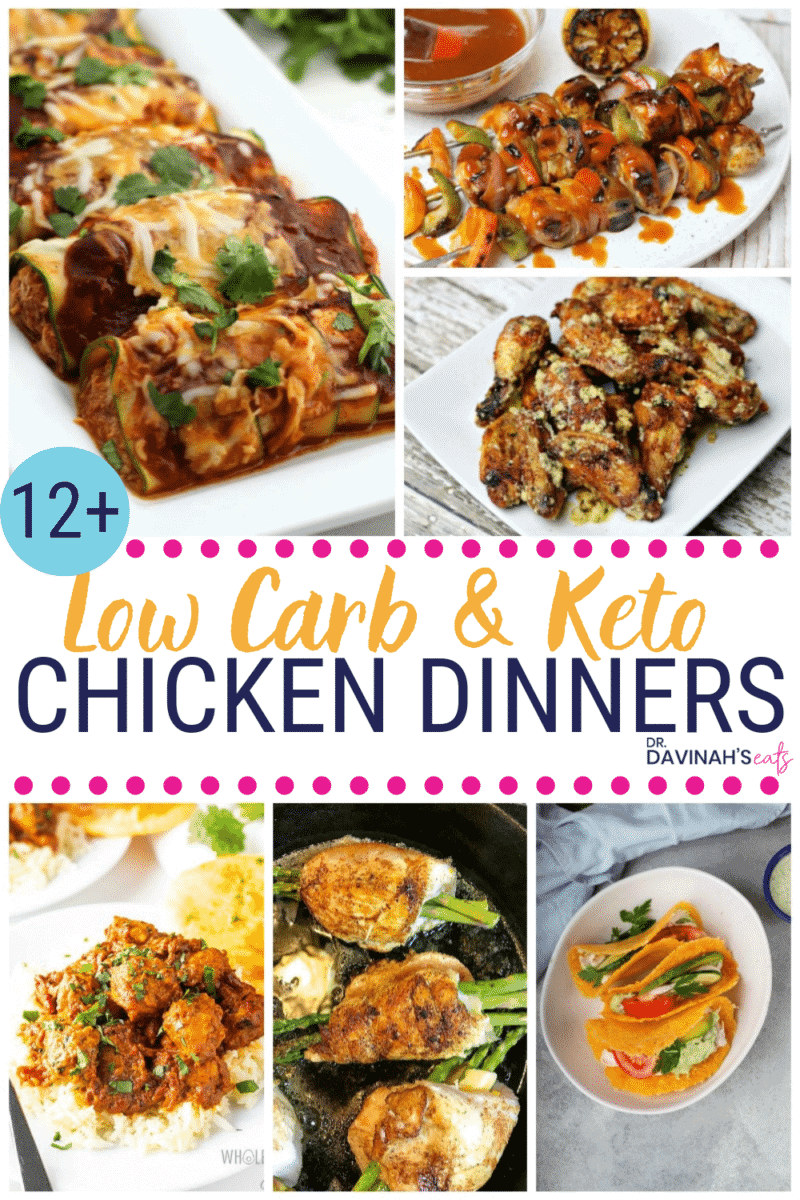 What keto chicken dinners will you find?
Keto Chicken Parmesan
Asparagus Stuffed Chicken
Cheesy Chicken & Spinach Skillet
Air Fryer Garlic Parmesan Wings
Baked Garlic Parmesan Chicken
Coconut Curry Chicken Recipe
Keto Zucchini Chicken Enchilada
Gluten-free Chicken Broccoli Casserole
The Best Almond Chicken
Bacon Wrapped Cola BBQ Chicken Kabobs
Keto Chicken Tacos with Cheese Tortilla & Dip
Low Carb Keto Green Chile Chicken
Slow Cooker Salsa Chicken
Why gather up low carb chicken dinner recipes?
Chicken is one of the most popular meats. It's widely available and really cheap. So, if you're trying to test out easy, keto-friendly recipes and/or stay within a budget, having a list of keto-friendly chicken dinners recipes is important.
Do these recipes use all types of chicken?
You'll notice that almost all of these keto chicken dinner recipes are made using chicken breasts. Personally, I prefer chicken breasts for most dishes because it's sturdy when you bite into it.
Some say that chicken breasts are too dry. And, chicken breasts definitely become dry when they are overcooked.
Chicken thighs are more forgiving if you, say, tend to forget that you're cooking! Even on super high heat, it takes a while for them to lose their moist texture. So, besides the chicken wings dish, if you'd like to swap the chicken breasts in these recipes for chicken thighs, then you can.
Looking for keto chicken wings recipes?
This chicken dinner collection includes one of my most popular wings recipes: Air Fryer Garlic Parmesan Wings. The rest of the dishes do not include wings.
If you're looking for options with just wings, then you should check out my post featuring 10 saucy keto chicken wings recipes. That post includes dishes like my Keto Asian Sticky Chicken Wings and Ghost Pepper Buffalo Chicken Wings.
What are some good side dishes to go with these?
If you're meal planning, then it'll be important to have some great side dishes. When I'm having chicken for dinner, I tend to keep my side dishes super simple. Some ideas are: a Caesar salad with my Creamy Caesar Dressing, Keto Creamed Spinach, or this easy Creamy Broccoli Salad with Bacon.
Here's some low carb chicken dinners recipes: